Massachusetts is lauded for its iconic exports: chocolate chip cookies, Chris Evans and, of course, Dunkin'. Now, it appears America's biggest doughnut chain is expanding its footprint by diving deeper into the world of adult beverages.
On Aug. 7, drink publication VinePair discovered, by looking through the Alcohol and Tobacco Tax and Trade Bureau (TTB) database, that Dunkin' is putting out a new line of hard iced coffees and iced teas under the name "Dunkin' Spiked."
When reached for comment, a Dunkin' representative hinted at the possibility of cool caffeinated cocktails to come.
"Dunkin' is brewing up something special (and spiked) for adult iced coffee and iced tea lovers," the rep tells TODAY.com. "While we can't confirm any new additions to Dunkin's lineup of ready-to-drink products at this time, stay tuned for more news soon!"
What is Dunkin' Spiked?
In the meantime, the chain has already created a website (though it's still under construction) for the upcoming suite of products that have yet to be officially announced: Dunkin' Spiked Iced Tea and Dunkin' Spiked Iced Coffee. They are flavored malt beverages, meaning the source of alcohol is a fermented base made from grain, including malted barley (so they're not gluten-free).
In the Spiked Ice Tea category, there will be four flavors, each at 5% alcohol by volume (ABV): Slightly Sweet Iced Tea, Half & Half Iced Tea, Strawberry Dragonfruit Iced Tea and Mango Pineapple Iced Tea. As Dunkin' devotees already know, the latter pair are versions of the nonalcoholic Refreshers served at shops around the country. According to the site, they contain between 15 and 30 milligrams of caffeine per 12-ounce serving, depending on the flavor.
The chain's Spiked Iced Coffee will also come four flavors, each at a slightly more potent 6% ABV: Original Iced Coffee, Caramel Iced Coffee, Mocha Iced Coffee and Vanilla Iced Coffee. These contain about 30 milligrams per 12-ounce serving.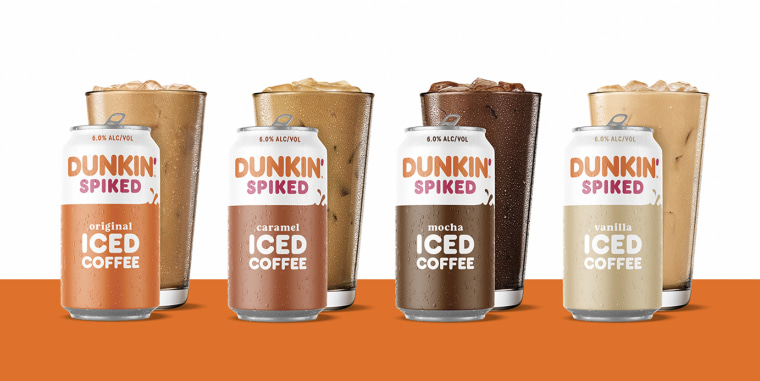 While the boozy Slightly Sweet Iced Tea and Original Iced Coffee are both available in 12-ounce cans, a canned 6-pack or a 19.2-ounce single-serve can, the other three flavors in each category will only be available in either Dunkin' Spiked Iced Tea Mix Pack or the Dunkin' Spiked Iced Coffee Mix Pack, which come 12 a pack.
When and where will Dunkin' Spiked products be available?
No release date has been officially announced, though Vinepair reported that some Dunkin' Spiked products have already received word from the TTB in May, with five of the eight total flavors receiving label approval. The Half & Half Iced Tea, Caramel Iced Coffee and Mocha Iced Coffee are reportedly still waiting for the go-ahead.
According to the website, however, Dunkin' Spiked Iced Teas are already shipping, and Spiked Iced Coffees will be available starting in September.
The drinks will be available in the following states: Connecticut, Delaware, Florida, Maine, Massachusetts, New Hampshire, New Jersey, New York, Pennsylvania, Rhode Island, Texas and Vermont, with more states to come in 2024. They will not be available in Dunkin' restaurants.
This is not the first time Dunkin' has lent its flavors to the canned booze category.
On Sept. 6, 2022, Dunkin' announced it was continuing its years-long partnership with Harpoon Brewery by re-releasing its Harpoon Dunkin' Pumpkin Spiced Latte Ale.
In addition, it offered three new Dunkin' coffee beers: Harpoon Dunkin' Cold Brew Coffee Porter, Harpoon Dunkin' Hazelnut Blonde Stout and Harpoon Dunkin' Coffee Roll Cream Ale, all which live in Harpoon's Limited offerings.
How are people reacting to the news?
Two humorous tweets pretty much sum up the public's reaction to Dunkin' Spiked.
"The Commonwealth of Massachusetts will not survive this," tweeted X (formerly known as Twitter) user Jordan Meehan.
"Boston after the spiked Dunkin' is released," tweeted another user Julia Claire, including an image of Paul Revere's engraving of the Boston Massacre.