TOKYO — 
As you walk toward Cokuun, a coffee bar that seats only four people on a small side street in Tokyo's Omotesando neighborhood, you arrive at a small pale-gray building and follow a tiled path to its secret address. You're here for the private, ticketed coffee omakase that costs 16,500 yen (about $120) per person and is the vision of Hidenori Izaki, the 2014 World Barista Champion.
Izaki greets you in a three-button midnight blue jacket with his glowing smile. "Welcome to Cokuun," he says as you enter a room that resembles a small art gallery. A giant sculptural orb made of wood and metal panels fills almost the entirety of the space. Resembling a steampunk version of a geodesic dome (meant to evoke the shape of an iron teapot) and designed by Koki Akiyoshi of Vuild Architects, this is Izaki's coffeehouse.
While Los Angeles has a thriving, diverse coffee community, many shops in Tokyo have elevated the art of brewing and serving coffee to the level of fine dining. At Leaves Coffee, Yasuo Ishii serves expertly crafted pour-over coffees to showcase the range of flavors at his roastery. He also has created a Temperature Change Experience: On a small tray, one espresso sits on a Nucleus Compass beverage thermometer next to the same espresso served with steamed milk. A series of tasting notes on the tray describe changes to consider as the espresso cools. At Koffee Mameya Kakeru, coffee is served by reservation only in a multicourse omakase tasting.
Izaki, the first Japanese coffee professional to earn the distinction of World Barista Champion, is a leader in the national coffee community. He runs his family business, Honey Coffee in Fukuoka, with his brother, and consults for companies around the world.
When the pandemic shut down travel in and out of Japan, Izaki began a journey across the country, searching for the best ingredients in Japan and imagining new ways to pair them with coffee.
"I wanted to create something that you can only experience in Japan," Izaki says. At Cokuun, the ingredients, cups, equipment and everything else you can see inside the sculptural space are made in Japan. "So you can experience Japanese culture through coffee."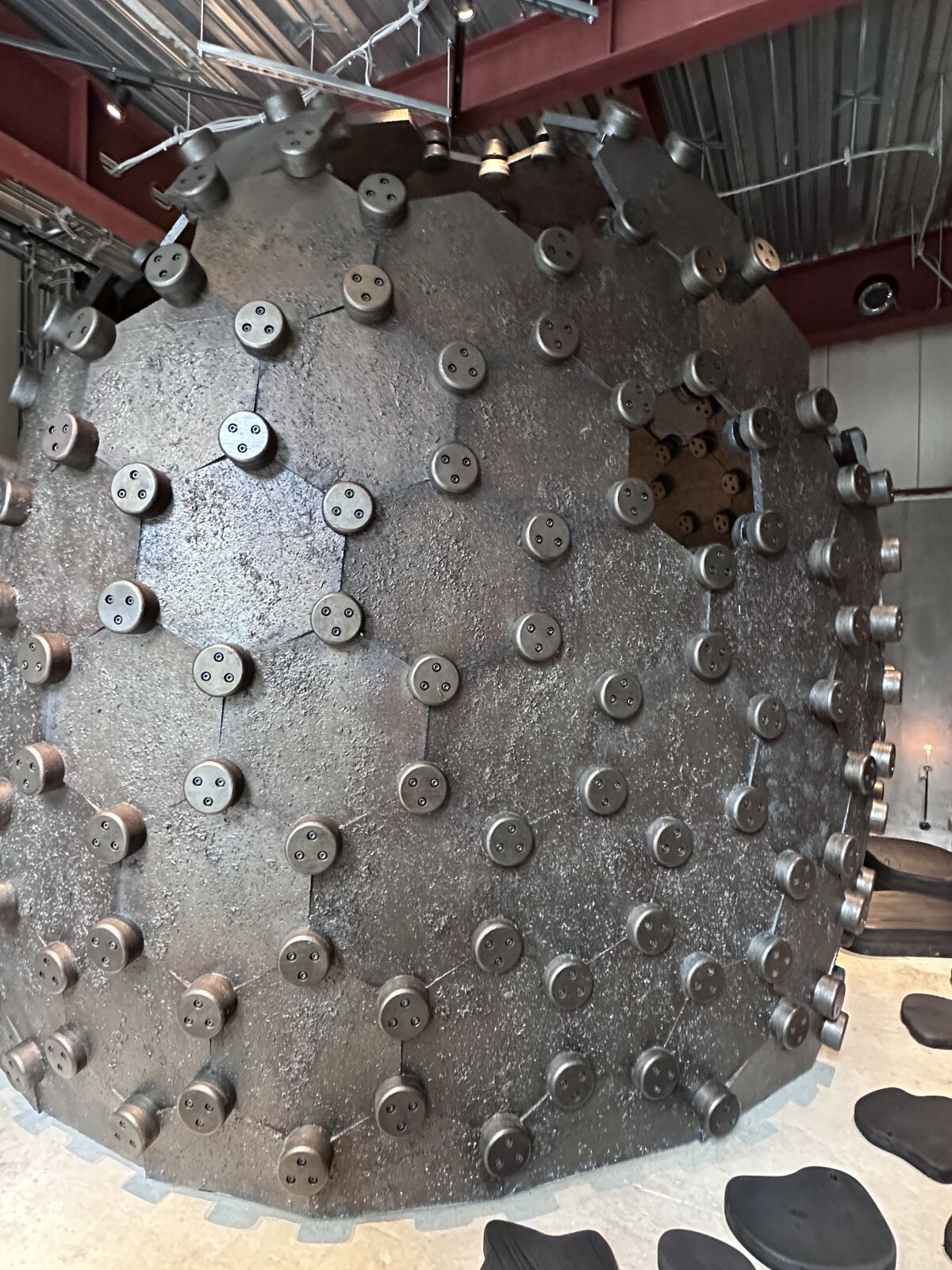 Izaki began to dream up his ultimate coffee experience with the highest degree of hospitality. "I want to elevate the coffee experience to the fine-dining level," he says. To this end, he created Cokuun, a private coffee club. Reservations can be made only by sending a request via the website. For now, coffee service takes place a few Saturdays a month with three 90-minute seatings a day for four people. Once confirmed, you will be sent a ticket link. And after paying, Izaki sends you the address (which you are asked to keep secret).
In the machiai, or waiting area, Izaki stands next to a small fountain placed there to set a peaceful tone, calm the mind and create a focused atmosphere. The spherical structure has been textured to look like cast iron that has weathered over time. He instructs his guests to walk across the carved wooden paver stones on the floor around and climb inside the orb through a small entrance called a nijiriguchi, an opening evocative of the doors to traditional tea houses, which force you to bow and enter with intention and respect.
There behind a counter, barista Miki Suzuki, three-time Barista Champion of Japan and second-place finisher in the 2017 World Barista Championship, enters her coffee-making stage. Here, rare coffees are served with Japanese ingredients. A recent tasting included various expressions of rare Eugenioides, a parent species of Arabica coffee once thought to be extinct and now revived by Inmaculada Coffee Farms in Colombia.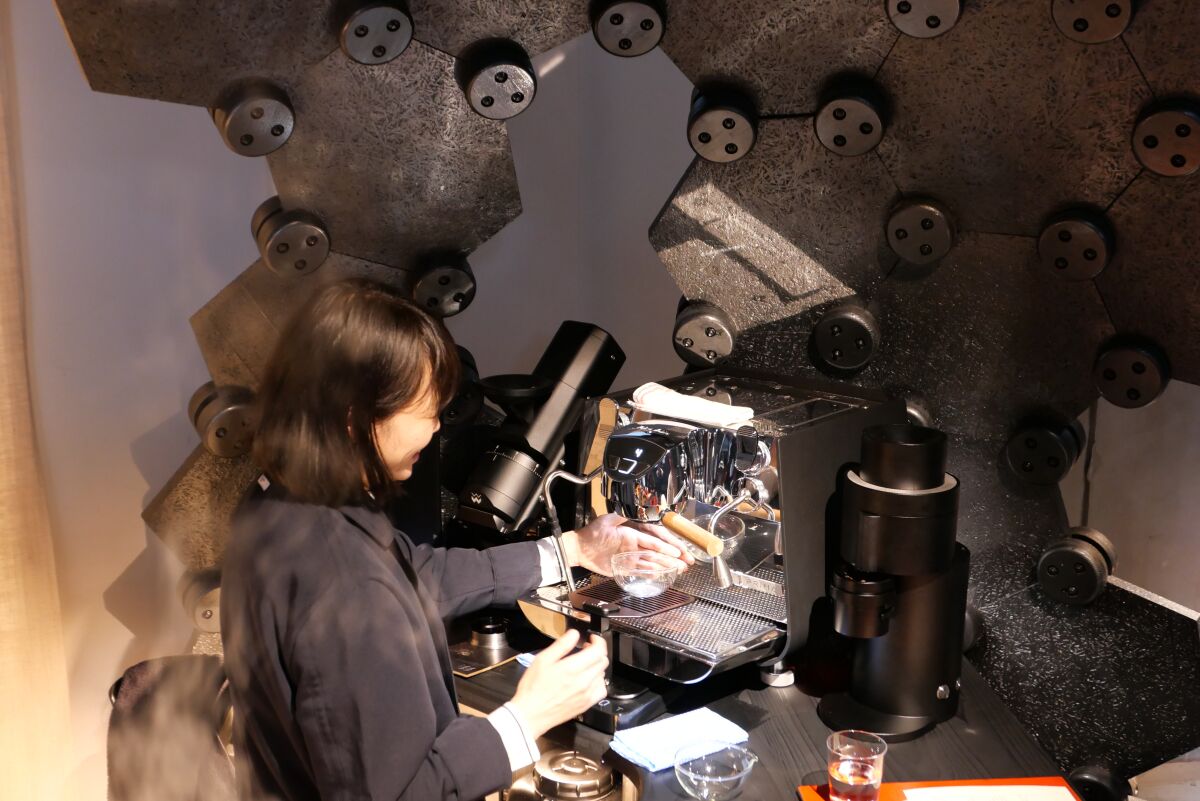 Suzuki in Japanese and Izaki in English tell evocative stories about coffee, Japanese ingredients, culture, philosophy and culinary heritage, while Suzuki precisely executes a series of drinks. First she brews the Eugenioides coffee over a frozen titanium sphere on a Paragon pour-over set-up fitted with an Origami dripper, made with porcelain in Mino in Japan's Gifu region.
This process locks in delicate flavors of the coffee beans as hot water drips over the frozen ball and into the carafe. The coffee is brewed with pristine Sharaku water from a sake distillery in Fukushima, which is boiled on the counter in the steaming antique cast-iron kettle to make the water softer. The result: a complex sweetness from the beans captured by the carefully orchestrated hand-brewing process.
For the second course, Suzuki turns to the customized Victoria Arduino E1 Prima espresso machine to make a silky gorgeous latte served in a rustic handmade white ceramic cup by Kai Tsujimura in Nara. She pulls a shot of espresso to be served with ultra-velvety and rich freeze-distilled milk, a technique used in barista competitions to bring out the sweetness of the milk to complement delicate coffees.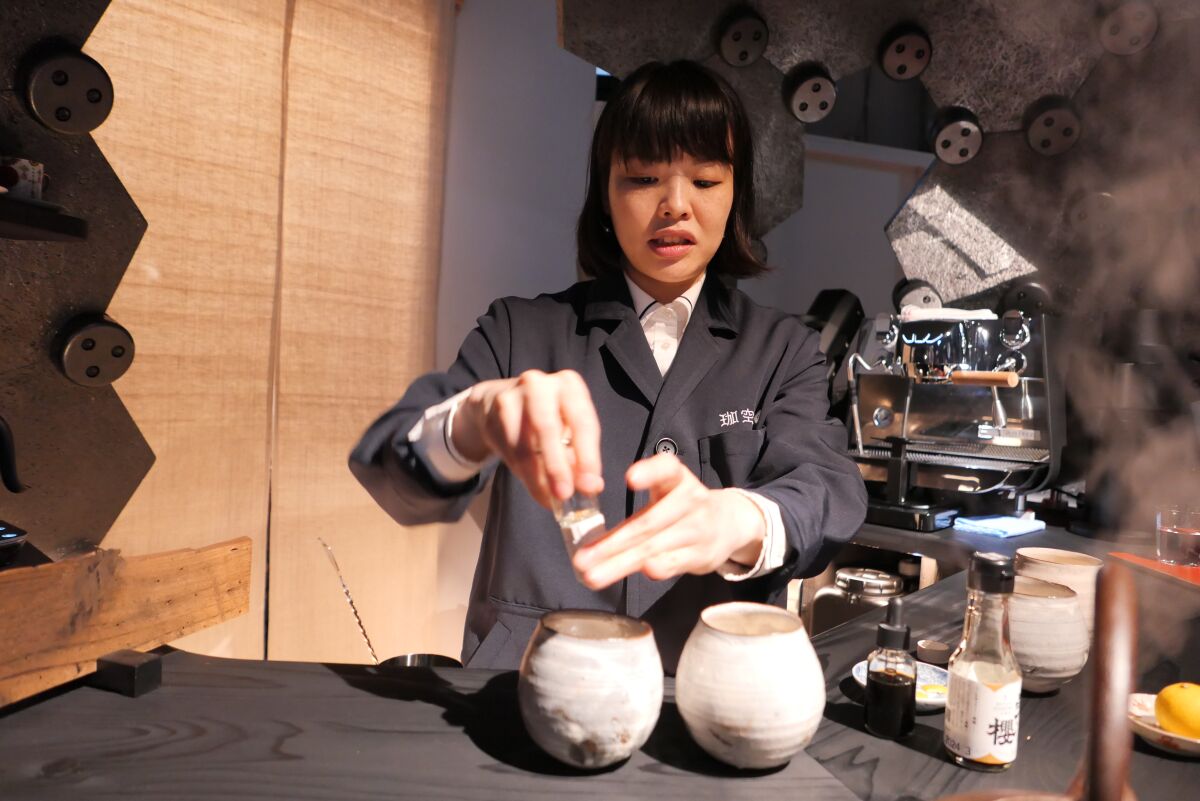 The flavors of the coffee for this course, which they call Umami Milk, are complimented with ingredients Izaki experienced on his journey around Japan: yeast-fermented shiitake mushrooms, tomato, seaweed, dried bonito, sansho pepper, orange peel and dried mirin. Rather than pouring the steamed milk over the espresso, Suzuki steams all of the ingredients together so each sip reveals layers of the umami flavors.
And finally, the third course, a juicy, citrusy Buddha's hand shakerato made with espresso, served in a delicate cocktail glass. Buddha's hand, papaya enzyme syrup and yeast-fermented tomato are emulsified in a cocktail shaker and poured through a fine sieve into a delicate crystal cocktail glass.
All the while an antique cast-iron teapot has been steaming away on the counter, sending mist into the air, inspired by tea ceremony practices that formed many of the rituals Izaki wanted to share with guests at Cokuun. Inside the cocoon, thet tasting becomes a form of time travel: to the past, present and future of coffee drinking culture.