The Nespresso Vertuo Pop is the latest addition to the brand's lineup of pod coffee machines. It's main USP – which is, perhaps, the most obvious – is that it's available in six gorgeous colors, allowing you to select a model to suit your kitchen decor or to make a statement.
Nespresso is known globally for producing some of the finest coffee and best coffee makers. Its coffee machines fall into one of two established categories, Vertuo and Original, with the Vertuo capsules larger in size and dome-shaped over the more refined, smaller Original capsules.
The Pop is a Vertuo machine and therefore accepts Vertuo capsules. Currently, it comes with 50 free capsules that are auto-added at checkout. I received a box of 12 for the purpose of this review – and can say that I've enjoyed every single one.
There were four espressos (40ml), four double espressos (80ml) and four mug (230ml) capsules, which were all different flavors. The Pop can also brew a gran lungo (150ml), delivering up to four cup sizes. In addition, making a coffee is as simple as pushing a button; the machine will automatically recognize the blend.
The Pop comes with a removable cup support to accommodate the larger mug size, although I found that I didn't use this much (if at all) during testing because I only have regular mugs in my household. This didn't impact the quality of the coffee or the pour. I also found that the 600ml / 20fl oz capacity tank was only sufficient for making two mug-sized capsules; for any more, you'll need to refill the water tank. But since you can only make one coffee at a time, this shouldn't be an issue.
In my opinion, the Vertuo Pop is the best Nespresso machine for single households, or where space is limited on the counter top. Each coffee I made it was delicious with a thick crema on top. Read on to discover more.
Nespresso Vertuo Pop review: price and availability
List price: £99
Widely available at resellers
Larger Vertuo Pop+ is available in the US
The Nespresso Vertuo Pop can be bought directly from Nespresso (opens in new tab), or resellers such as Amazon (opens in new tab), Argos (opens in new tab), Currys (opens in new tab) and John Lewis (opens in new tab)for a list price of £99. It's often discounted, so do shop around for deals. It's not available in the US, but coffee lovers there can buy the Nespresso Vertuo Pop+, which looks similar but is larger, has a larger 25.4fl oz / 750ml water tank, and can make an XL 12oz coffee in addition to the four sizes offered by the Vertuo Pop.
The machine is the latest addition to the Vertuo range. It's the most affordable, with the Nespresso Vertuo Plus being the next best option for those on a budget at £179.
Compared to the Nespresso Original machines, the Vertuo Pop doesn't come with an integrated milk frother or separate Aeroccino, so those who like frothy, heated milk in their cappuccino may benefit from spending an additional £90-or-so from Amazon (opens in new tab) for one.
Nespresso Vertuo Pop review: specs
No. of cup sizes: 4
Heat-up time: 30 seconds
Water tank capacity: 600ml / 20 fl oz
Connectivity: Yes
Dimensions: 136 x 426 x 250mm / 5.3 x 16.7 x 9.8in
Weight: 3.5kg / 7.7lbs
Nespresso Vertuo Pop review: Design
Compact and minimalist
Movable cup support
Available in six colors
The Nespresso Vertuo Pop is a compact coffee pod coffee maker. It measures  136 x 426 x 250mm / 5.3 x 16.7 x 9.8in, so it doesn't take up much space on the countertop. In addition, it weighs just 3.5kg / 7.7lbs, so it can be easily moved if you need to store it out of sight.
A slight downside of its compact form is that the removable 600ml / 20 fl oz water tank only holds enough water for making two mug-sized coffees. This is fine for single-person households, or maybe even couples who drink one coffee per day; but for families this particular coffee machine won't be up for the demand.
The Vertuo Pop can make four different cup sizes: espresso (40ml), double espresso (80ml), gran lungo (150ml) and mug (230ml). For the largest size, the cup support can be removed – although I didn't use this since I have only regular-size mugs.
The one-touch button for operation is on the top of the machine. Beneath this is a lever that can be turned to unlock the top of the machine for inserting a capsule. With the capsule in place, the lid can be shut and locked into position.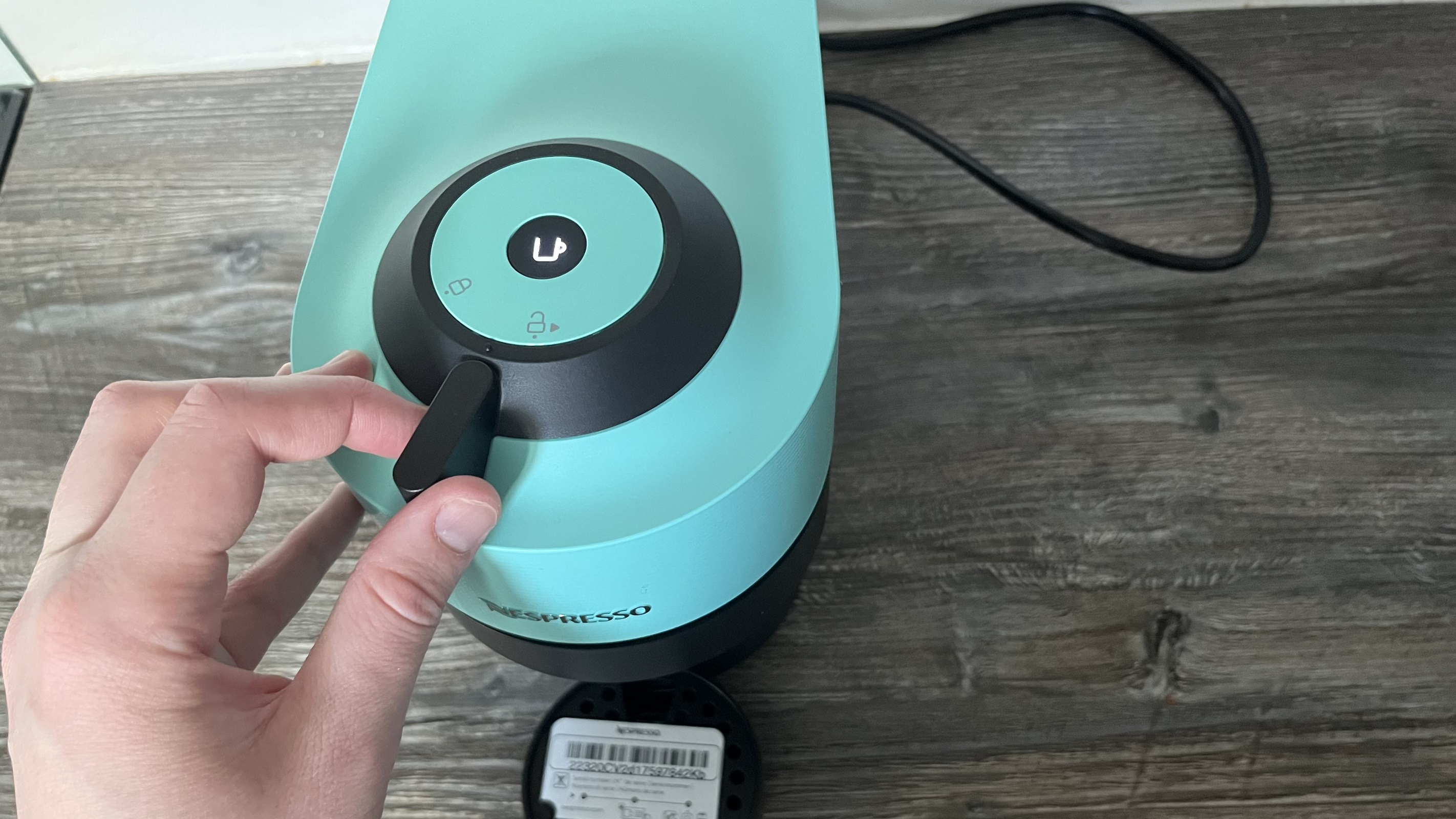 This coffee machine is available in six attractive colors, allowing you a choice of model that will either blend in with your kitchen, or make a statement. You get a choice of Liquorice Black, Pacific Blue, Aqua Mint, Spicy Red, Mango Yellow and Coconut White. Although the machine isn't wrapped entirely in a colorful hue because of it's black lower-half, it certainly catches the eye. The model I tested was Aqua Mint, and since all of my other appliances are black, it certainly brought a nice pop of color to my kitchen.
Nespresso Vertuo Pop review: Performance
Quick to set up
Easy to use
Compatible with the Nespresso app
The Nespresso Vertuo Pop is super-easy to set up and use from the get-go. It comes with a comprehensive instruction booklet, and while the pages might make it seem that you have to "pair" the coffee machine with the Nespresso app before use, the reality is that you don't have to use the app at all – it's merely for additional support, if you feel you need it.
I set up the machine before downloading the app. Rinse out the water tank, and then you'll need to "place a container". This is a little vague, but reading ahead in the instructions, it turns out that you'll need to find a container the same size as the water tank or larger, and move the cup support. After pressing the button three times within a 2-second time frame, you'll see why. The machine will start rinsing, and it will use all the water in the tank to do so; unless you're prepared with a container the same size as the water tank, or have a couple of empty mugs handy, you could end up with a puddle on the counter top.
Having done this, you're now ready to use the machine. You just need to turn it on, insert the capsule, and press the button to start pouring coffee.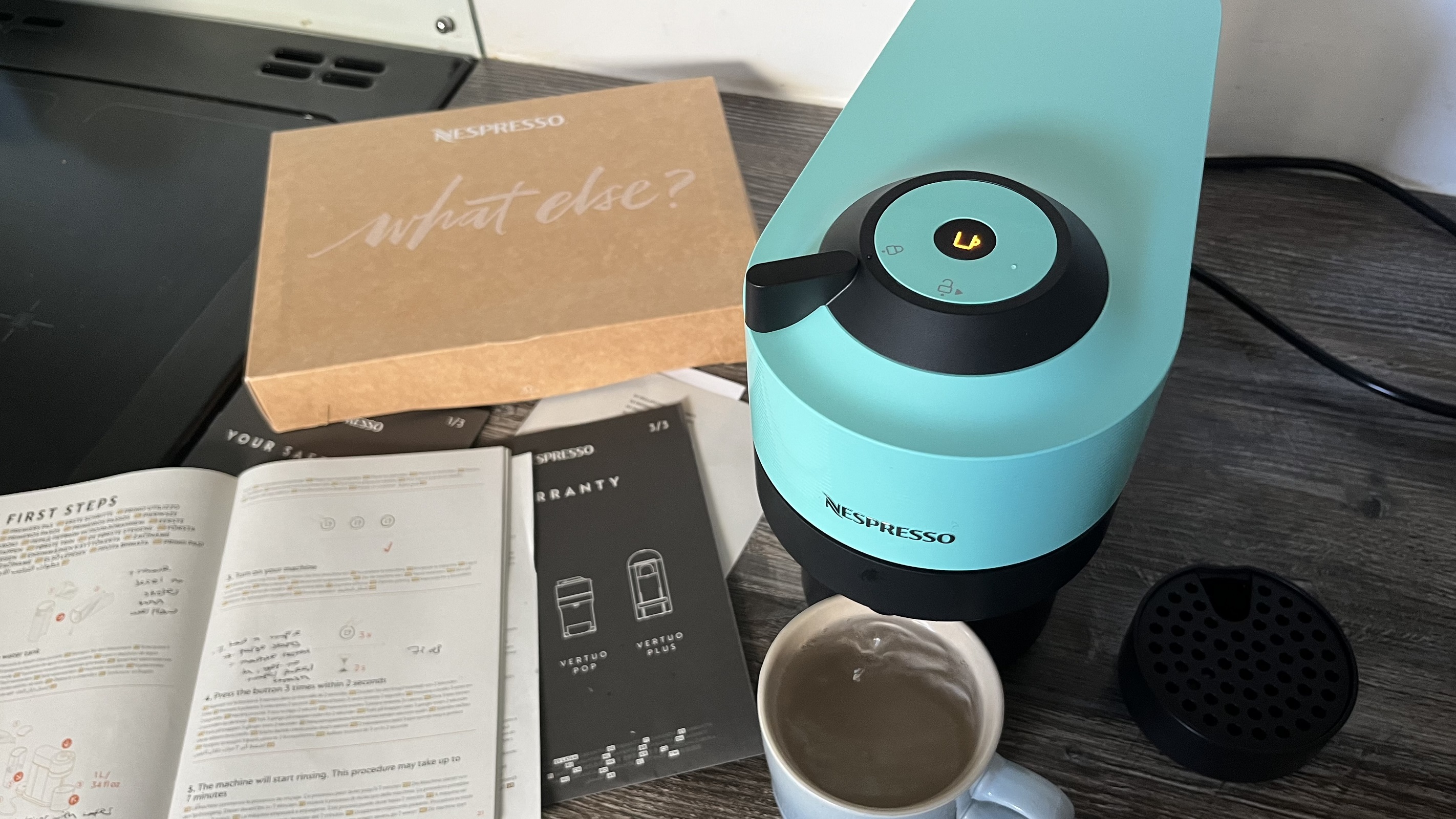 Our review unit arrived with an assortment of 12 coffee capsules and, at the time of writing, you can receive a box of 50 coffee capsules for free, giving you plenty to get started. Do note that there isn't much of a selection of decaf coffee, so if you're not big on drinking caffeine, you may need to source some alternative capsules to the freebies. There's a lot of choice of Vertuo capsules on Amazon (opens in new tab), for example.
The machine will automatically detect the size of capsule added to the machine, and I found that it poured the perfect amount of coffee into my chosen vessel every time.
Offering simple one-touch brewing, I just pressed one button and the Vertuo Pop took care of the rest. It takes no longer than 30 seconds to make a mug of coffee, and even less time to make a smaller coffee. There were no drips from the spout once the coffee had been poured, and it produced the perfect crema on top.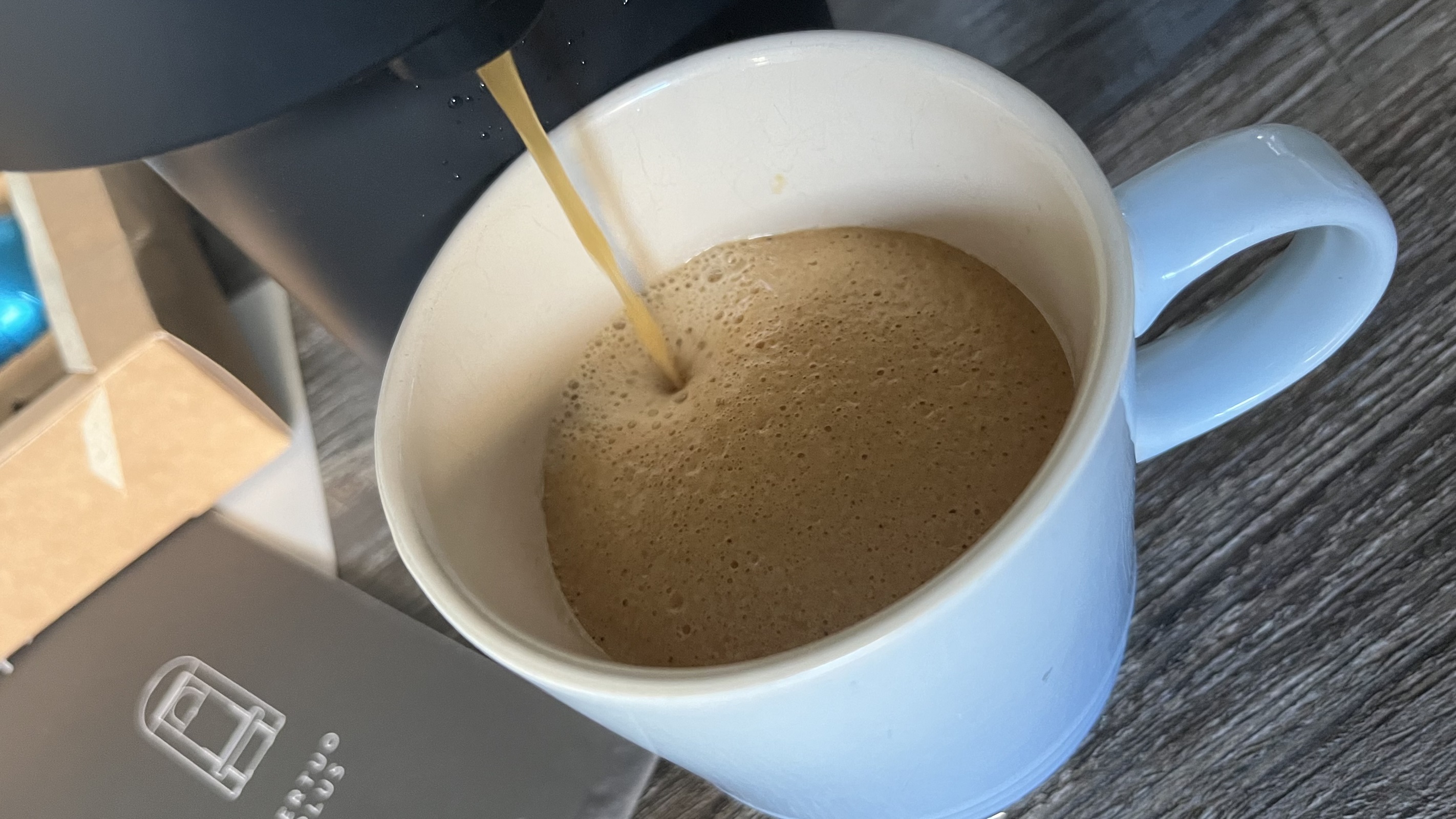 The capsules will automatically dispense into an integrated drawer, which holds up to 12 capsules, once the coffee is poured. These capsules can't be recycled via your home recycling, which is rather annoying. I found that the best way to recycle Nespresso pods was to request a Podback bag at the time of ordering and thereafter take it to my nearest CollectPlus location. Alternatively, if you're regularly ordering capsules then you can arrange a time and date for your used capsules to be collected, which is the next best option.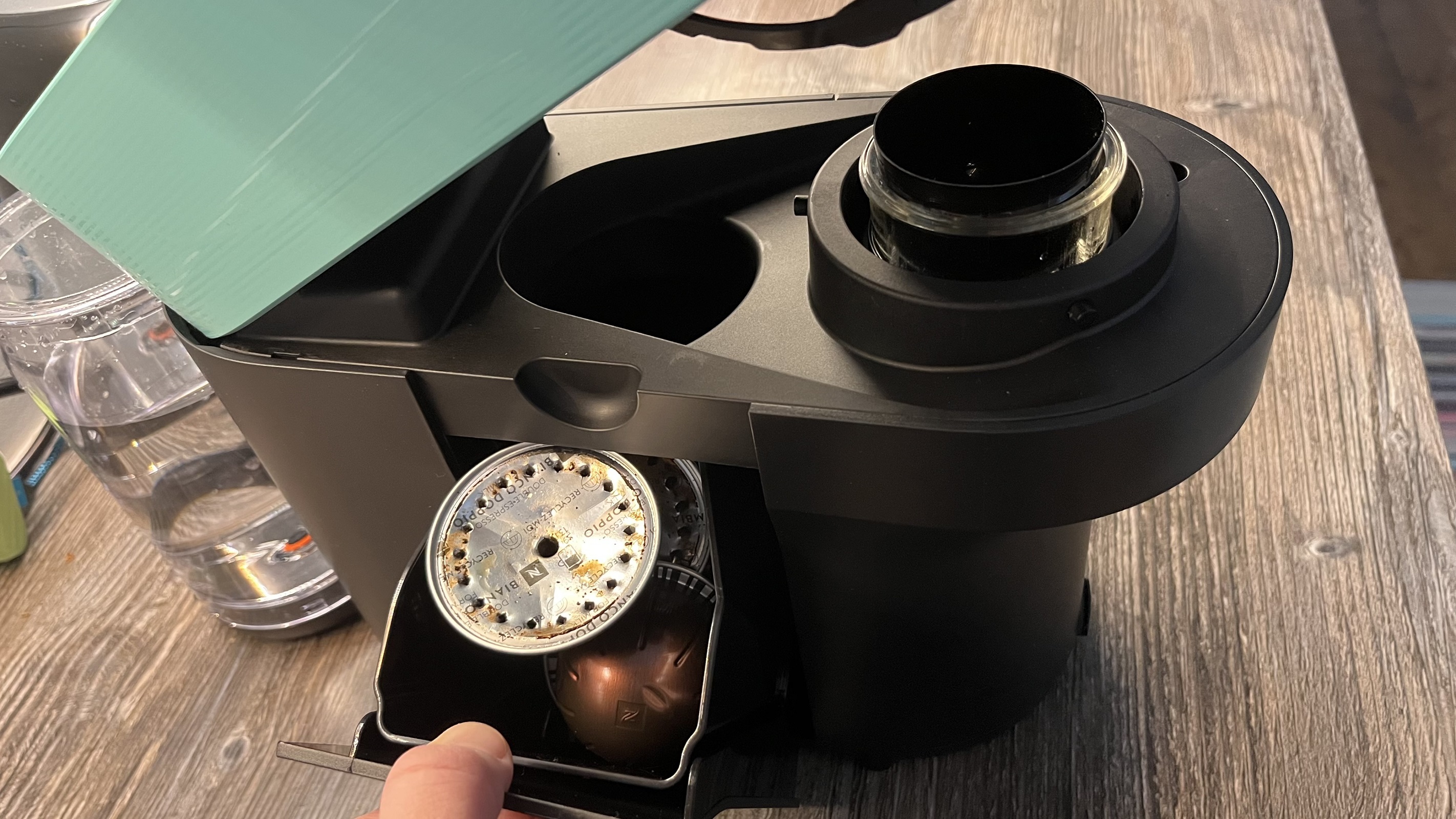 The Vertuo Pop can brew only one coffee at a time. If we wanted to make two mugs of coffee, for example, I just needed to make sure that I had enough water in the water tank and a capsule and mug at the ready. Note that this machine is noticeably loud when brewing a coffee; I measured it between 62–71dB, the louder level being equivalent to a washing machine.
As mentioned earlier, there is an app that accompanies the Vertuo Pop. This isn't essential to run the machine, but it does provide care instructions for your machine, and you can receive real-time tips on using your coffee machine.
Download the Nespresso app then pair with your machine using Bluetooth. Then, connected to your home Wi-Fi, you can receive notifications and gain access to help and support, should you feel you need it.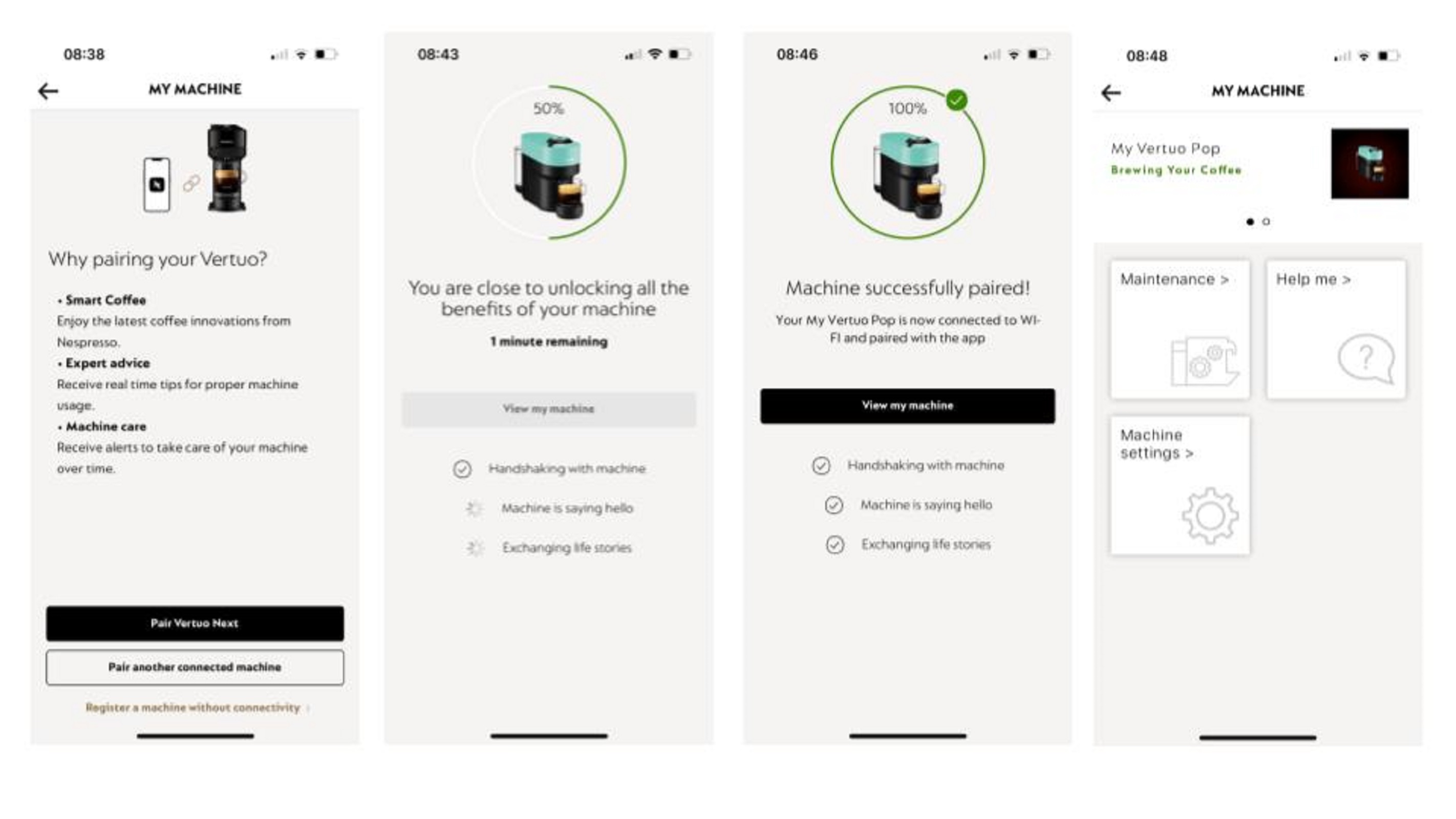 In terms of maintenance, the advice is to descale the machine every three months or 300 capsules (which ever comes first). There is some guidance about how to do this in the Nespresso app, or follow the steps in the instruction manual. You're also advised to clean the machine every six to 12 months, which involves just running clean water and odorless detergent through the machine on a cycle.
Nespresso Vertuo Pop review: Should I buy?
Swipe to scroll horizontally
Nespresso Vertuo Pop review

| Attributes | Notes | Rating |
| --- | --- | --- |
| Price & availability | Widely available through resellers, and in a gorgeous selection of colors. The price isn't too bad either, especially when it's on sale. | 5/5 |
| Design | Compact and minimalist, and colorful if bought in anything other than black or white. The water tank is small, though, and there's no integrated milk frother. | 4.5/5 |
| Performance | Super-easy to set up and use. It makes a lovely coffee with a thick crema. You can only make one coffee at a time, and the water tank is only big enough to make two mugs of coffee, one after the other. | 4.5/5 |
Buy it if…
Don't buy it if…
Nespresso Vertuo Pop review: also consider
Swipe to scroll horizontally
| | Nespresso Vertuo Plus | Nespresso Vertuo Next | Nespresso Lattisima One |
| --- | --- | --- | --- |
| Price: | $199/£150 | $239.95/£150 | $649/£339.99 |
| No. of cup sizes: | 4 | 5 | 6 |
| Heat up time: | Info not available | 30 seconds | 25 seconds |
| Water tank capacity: | 40.5fl oz / 1.2L | 37.1 fl oz / 1.1L | 33.8fl oz / 1L |
| Connectivity: | No | Yes | No |
| Dimensions: | 12.79 x 9.17 x 13.1 inches / 32.5 x 23.3 x D33.5cm | 5.6 x 16.9 x 12.4 inches / 14.2 x 42.9 x 31.4 cm | 14.17 x 14.96 x 7.6 inches / 36 x 38 x 19.5cm |
| Weight: | 4.7kg | 4kg | 4.2kg |
If you prefer to consider a pod coffee machine from another brand, here are a couple of machines to consider…
How I tested the Nespresso Vertuo Pop
I've been using the Vertuo Pop for 2 weeks
I've made an espresso, gran lungo and mug (sized)
I now prefer coffee
The Nespresso Vertuo Pop compact pod coffee machine has been residing on my kitchen countertop for a couple of weeks. I've been reviewing it in the Aqua Mint colorway, which brings a nice "pop" of color to my kitchen.
The review machine arrived with a box of 12 capsules. These were in the sizes of espresso, gran lungo and mug. The machine automatically detects the size of pod inserted, and to make any size of coffee, I simply inserted a capsule, put a mug under the coffee spout, and pushed the button. It was super easy. I was impressed by the quality of coffee poured, with the thick crema similar to that seen in coffee bought from a coffee shop.
I've been reviewing coffee machines for three years, and have been writing about appliances for over 10 years. I'm generally a tea-drinker, but this pod coffee machine has proved to me that you don't need to spend a lot of money, or claim a lot of kitchen space, to make a decent cup of coffee.
Read more about how we test.
First reviewed: April 2023