One-minute review
If you're looking for the ease and convenience that comes with a capsule coffee machine, it's no surprise you're considering Nespresso. The best Nespresso machines can deliver coffee at the touch of a button and the brand offers a huge range of capsules to suit every taste.
The Nespresso Vertuo Creatista is the latest Vertuo machine from the brand, and it's the most premium and feature-rich Nespresso Vertuo model you can currently buy. Nespresso's Vertuo capsules combine with the Vertuo machines and use brewing technology that is much smarter than Nespresso original machines and capsules.
The Nespresso Vertuo Creatista reads a barcode on the capsule that tells it exactly what settings it should use for optimum brewing. This clever little feature means the machine knows whether it should be dispensing a single espresso or a mug of coffee, so all you have to do is press the start button.
But the feature that sets this model apart from other Nespresso Vertuo machines is the integrated milk frother. This barista-style milk wand might look like the manual steam wands on the best espresso machines, but it's completely automatic, so you get consistent results every time.
On test, I was impressed by the build quality and attention to detail in the design. It certainly feels like a top-of-the-range model and is very straightforward to use. As with all Nespresso machines, it can't produce the same high-quality espresso that you'll get from an espresso machine. But for everyday coffee at the touch of a button, I think it's the best Nespresso has to offer.
Nespresso Vertuo Creatista review: price and availability
The Nespresso Vertuo Creatista is available direct from Nespresso in the US and the UK, as well as through other retailers including Amazon. It's the most expensive Nespresso machine you can buy that takes the Vertuo capsules.
Vertuo capsules are also available direct from Nespresso and they start at $0.98/ £0.48 per capsule, but prices vary depending on the size and type of coffee you choose. The Vertuo capsules are more expensive than the Nespresso Original capsules, but you have to consider that the Original capsules don't use the same smart brewing barcode technology.
Nespresso Vertuo Creatista review: specifications
Swipe to scroll horizontally
The specs of our Nespresso Vertuo Creatista review unit

| | |
| --- | --- |
| Price: | $749 / £649 |
| Weight: | 15lb / 8.7kg |
| Size: | 12.7 x 9.6 x 16.4 in / 32.2 x 24.5 x 41.7 cm (h x w x d) |
| Water tank capacity: | 67.6 fl oz / 2 liter |
| Milk capacity: | 8 fl oz / 240ml |
| Used capsule capacity: | 6-10 |
| Coffee sizes: | espresso, double espresso, gran lungo, coffee/ mug, XL/ alto, carafe |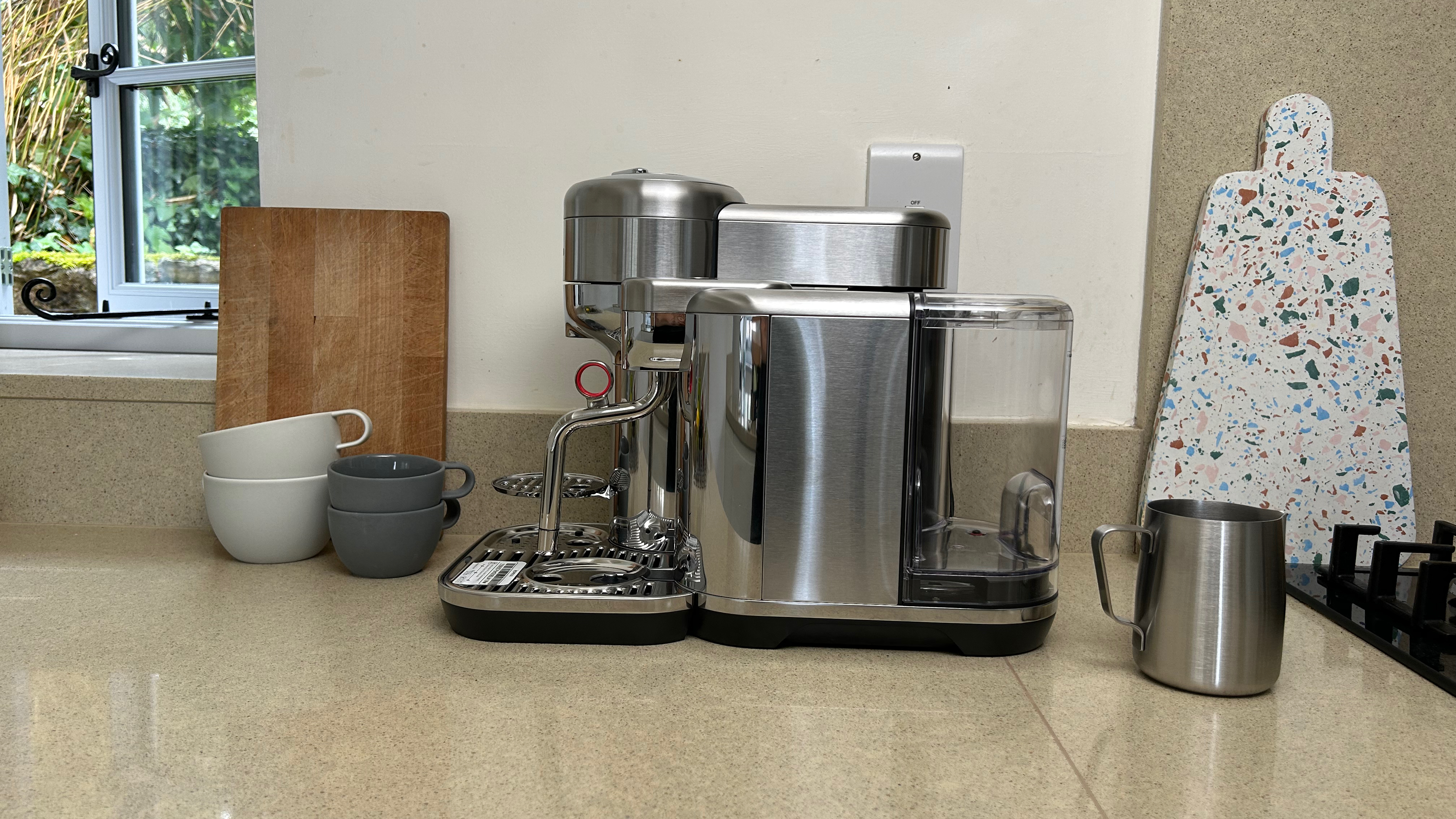 Nespresso Vertuo Creatista review: design and features
Automatic milk wand
Large removable 67.6 fl oz / 2-liter water tank
Automatically senses the capsule variety
For this review, I was sent the brushed stainless steel model, which looks pretty swanky and quite far removed from the many molded plastic Nespresso machines that the brand offers. In the UK it's also available in a finish called black truffle, but this just means some accents are black –  the main body is still stainless steel. One thing I noted straight away though, is that the steel finish does easily mark with fingerprints, so you have to buff it frequently to keep it looking smart.
Aside from its very shiny casing, I was also struck by its size. This is the biggest Nespresso machine I've ever reviewed, and I've tried most of them. It measures 12.7 x 9.6 x 16.4 in/ 32.2 x 24.5 x 41.7 cm (h x w x d). It's got a large, deep footprint so you'll need plenty of free counter space.
As a Vertuo machine, it features Nespresso's blend-specific brewing technology. This means that it reads a barcode on the Vertuo capsule and then optimizes the brew settings for that particular capsule. So as a user, all you have to do is choose a capsule, pop it in, and press start. The machine will then dispense the correct volume and temperature of water for that specific capsule. This does however mean that you can't manually adjust any coffee settings, including the temperature.
Used capsules automatically drop into the capsule bin when you open the machine head. The bin slides out from the side of the machine for easy emptying. It has space for between 6-10 capsules, depending on the size of the capsule you're using.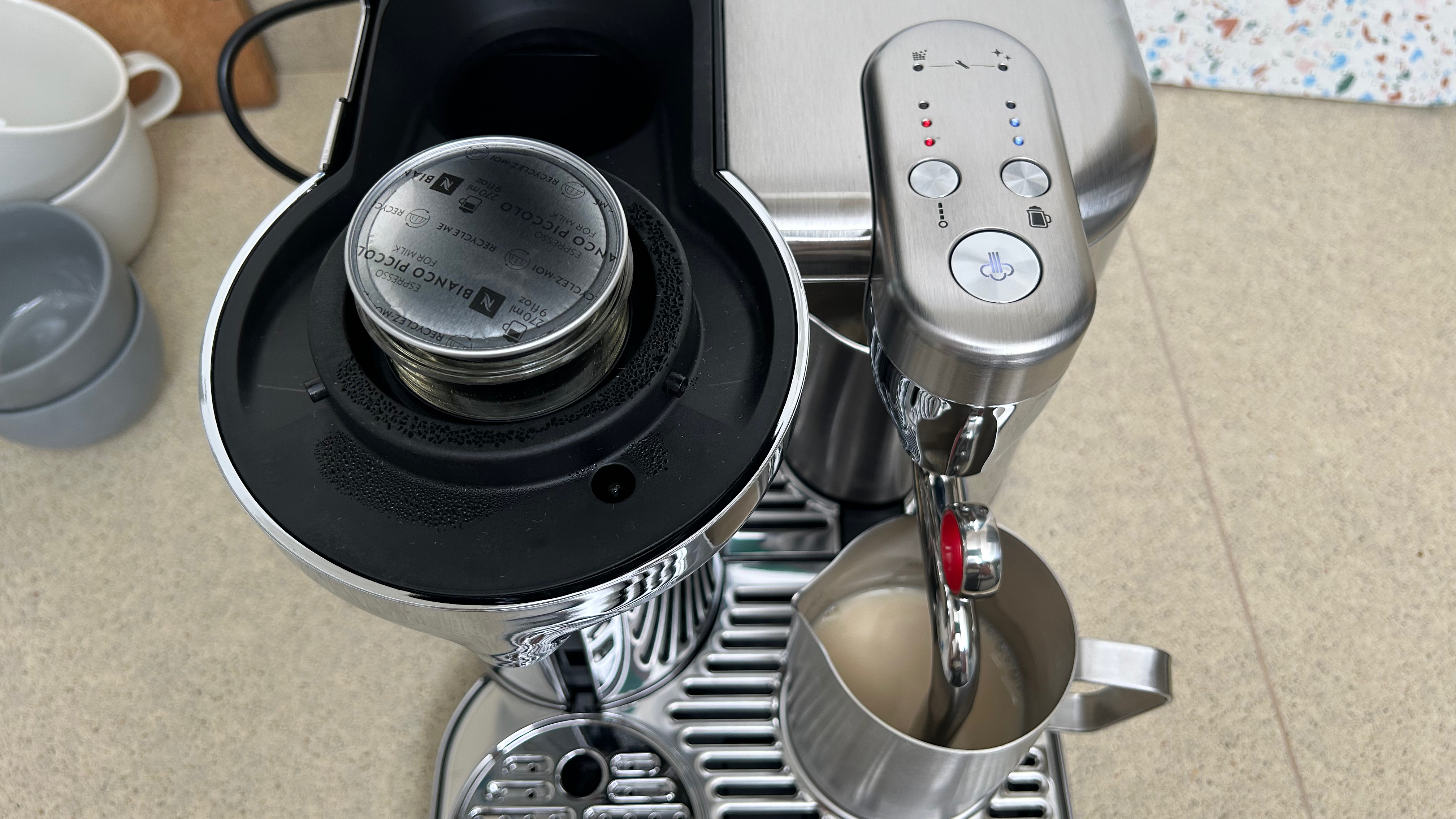 At the front, there's a large removable drip tray, with a red float marker that pops up to alert you when it needs emptying. Below the spout, the cup tray can sit on the drip tray – perfect for taller cups – and for smaller cups, there are two higher levels so you can move the cup closer to the spout to avoid splashing while it pours.
One of the standout features is the automatic milk frothing wand, it has the look of a barista-style wand, but it's fully automated. You can choose between three temperatures and three foam levels. Insert the wand into the stainless steel milk jug and rest it on the temperature sensor and it automatically creates the perfect textured milk. The wand itself is very sturdy with a generous finger loop at the top to allow you to tilt it forwards and backward even when it's very hot.
The milk jug looks like it has a large capacity, but the max line on the inside only allows it to be filled with up to 8 fl oz / 240ml of milk, which is enough for one large or two small coffees, depending on how much milk you take.
It also features a host of automatic functions; it automatically rinses the milk wand with water after use, plus it'll let you know when it's time for a descale. It even features Wi-Fi connectivity, and when connected it'll keep the coffee maker up to date with the latest software. But the app isn't all that useful, other than providing coffee-making tips and walking you through cleaning and maintenance.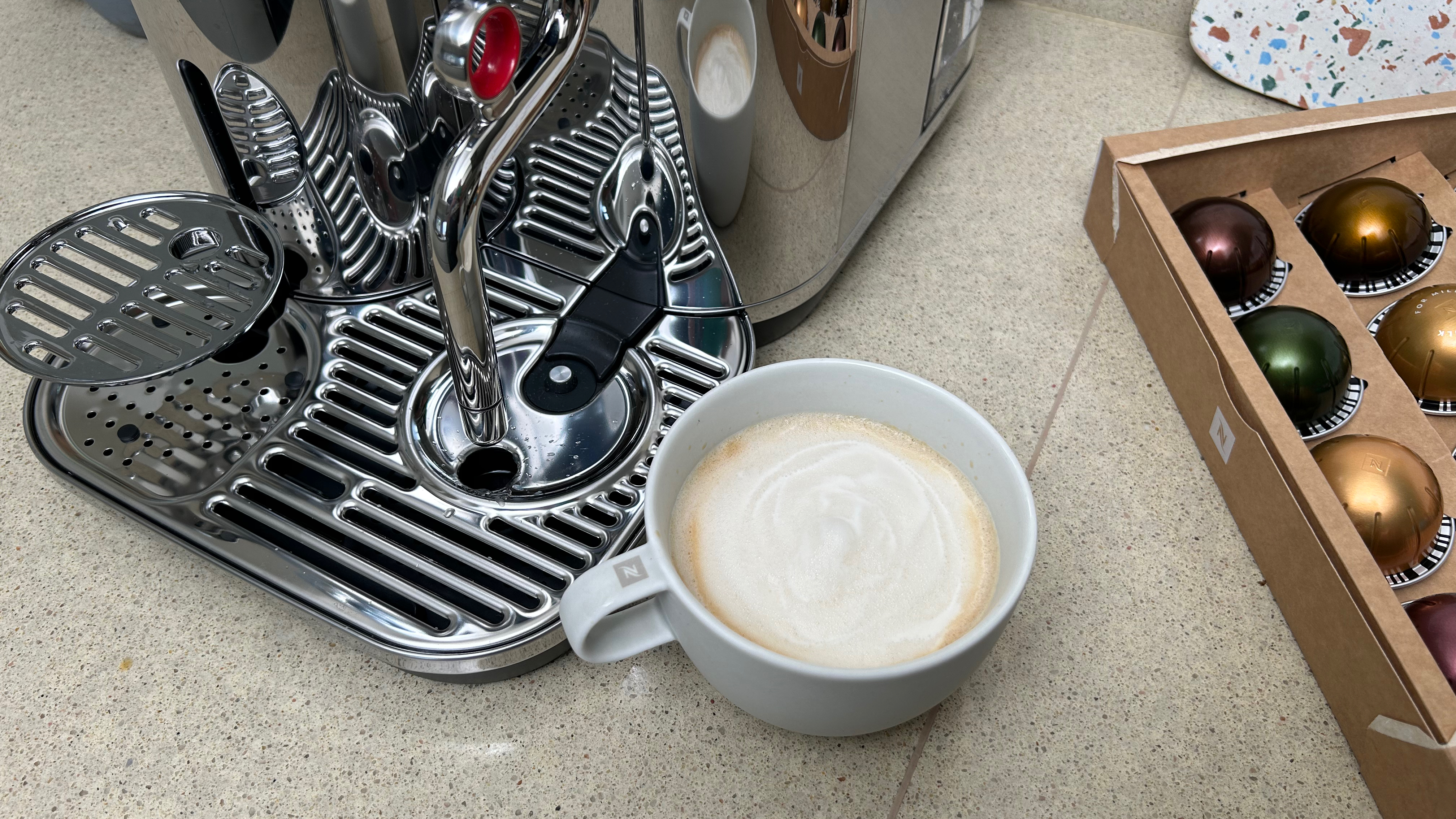 Nespresso Vertuo Creatista review: performance
Very simple single button operation
Effortless milk frothing
Espresso crema is thin
Thankfully the initial setup is quick and easy, I just had to give the parts a quick rinse. Then, by pressing the coffee button three times, it performed an automatic rinse cycle to make sure there were no manufacturing residues on the inside. 
It doesn't take long at all to get to grips with this Nespresso machine and within 20 minutes of getting it out of the box, I was making coffee. From cold, the machine takes around one minute to heat up. Then it's simply a case of unlocking the machine head by pushing the lever to the left, popping in a capsule, and locking it back down before pressing the coffee button. Only having one button, regardless of whether you're making an espresso or an 18 oz carafe, really does simplify the process.
To make barista-style coffees like lattes and cappuccinos, you need a shot of espresso to go with your hot milk. It pours a single espresso in around 55 seconds, while a double espresso takes 75 seconds. The average temperature of single and double espressos was 155F/ 68C, which is around what I'd expect. 
The flavor will depend on the capsule you choose, but I will say that capsule coffee is never as well-rounded and fruity as the flavor you get from freshly ground coffee. Likewise, Nespresso Vertuo machines – including this model – produce a thin, weak, often bubbly espresso crema that doesn't match the thick, rich crema you get from an espresso machine. However, if you're considering a capsule machine, it's likely that the quality of the espresso crema isn't your biggest concern.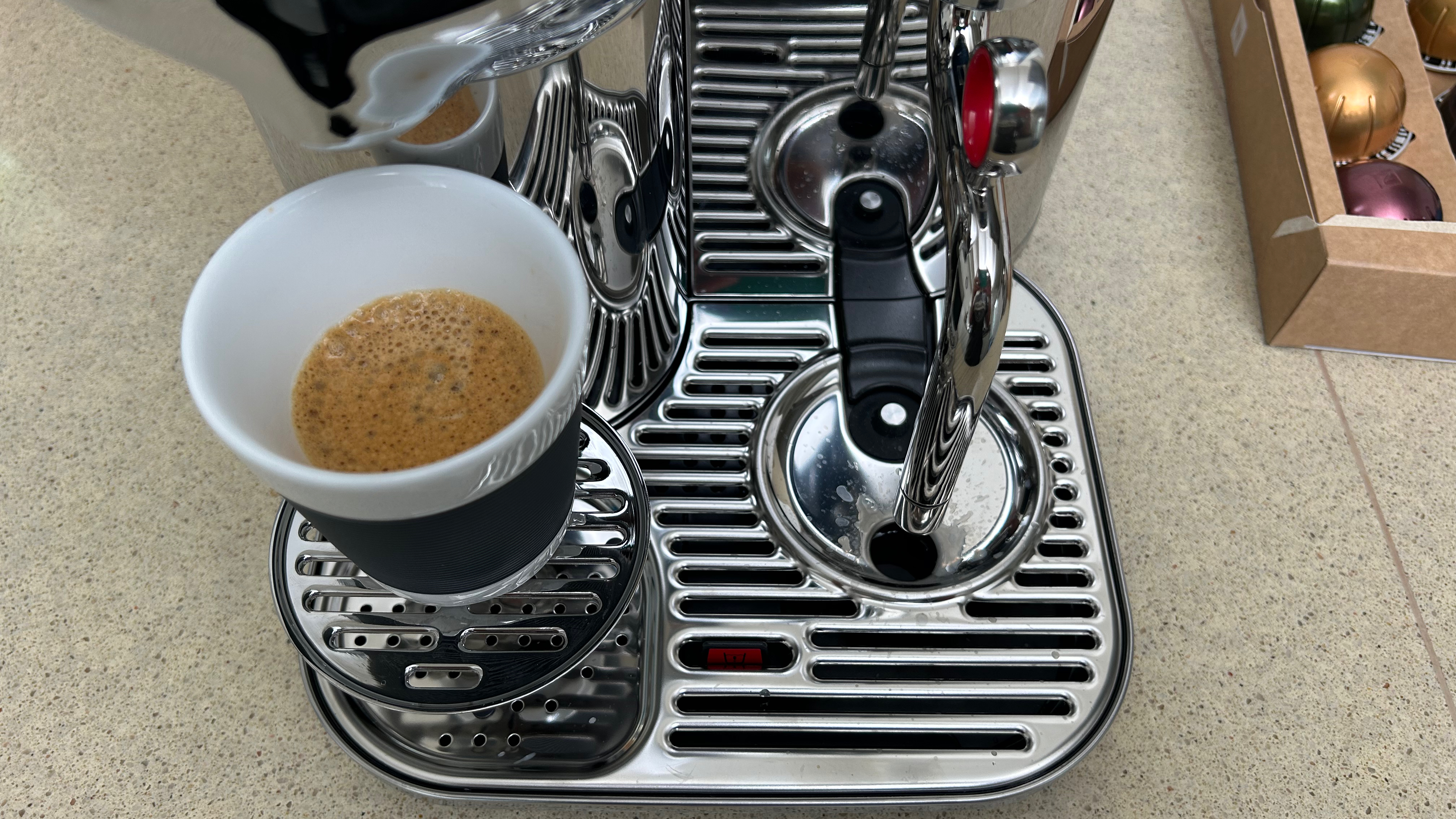 The steam wand and stainless steel milk jug might look professional standard, but using them couldn't be more beginner-friendly. Inside the jug are min and max markers as well as numbered markers. Simple recipes in the manual give guidance on what level to fill the milk to for various drinks. For a cappuccino it advises level 2 which is about 4.7fl oz/ 140ml.
I set the froth to level two out of three and the temperature to level two of three. Then I placed the wand in the jug and let it rest on the drip tray. All I had to do was press the steam button and it automatically steams, froths, and heats the milk. 
When filled to level 2 it took 55 seconds and the milk was 156F/ 69C. When I chose the highest of the three temperature settings, the same volume of milk was heated to 175F/ 79C and it took 65 – 70 seconds.
The milk foam is pretty good for an automatic milk frother, it can create a fine microfoam almost to the standard that your barista produces, although it can be more bubbly if you select the higher froth levels. But given how convenient it is to use, most people will be happy with the result. Plus, having three froth levels to choose from as well as three temperatures, already gives you far more control than some of the standalone milk frothers you can buy.
Despite being fully automated, you get to play barista when you pour the hot milk over your espresso to create your drink of choice. But if barista-style drinks aren't your thing, don't worry, it can also pour an 8 oz mug of 156F/ 69C coffee in around 1 minute 45 seconds.
Cleaning is no different to most coffee machines, the drip tray needs regular emptying and rinsing. There are easy-to-use automated rinse and descale functions. The manual advises washing all removable parts by hand, which might be frustrating for dishwasher fans
As far as Nespresso machines go, this is a top performer. The integrated milk wand sets it apart from the other Vertuo machines and during use everything about it felt more premium than all the other Vertuo models I've tried.
Should I buy the Nespresso Vertuo Creatista?
Swipe to scroll horizontally
Smeg Personal Blender report card

| Attributes | Notes | Rating |
| --- | --- | --- |
| Value | It's the priciest Nespresso Vertuo machine you can buy, but it also has the best range of features. | 4/5 |
| Design | With lots of thoughtful attention to detail and automated features, this is an impressive and well-built Nespresso machine. | 5/5 |
| Performance | This is the best Nespresso Vertuo machine you can buy, it's easy to use and outperforms all other Vertuo models. | 5/5 |
Buy it if…
Don't buy it if…
Also consider…
Swipe to scroll horizontally
| | Nespresso Pixie | Nespresso Vertuo Plus | Nespresso Latissima One |
| --- | --- | --- | --- |
| Price | $229/ £100 | $179/ £199/ AU$279 | $399/ £220/ AU$519 |
| Size: | 9.25 x 4.4 x 12.8 inches / 23.5 x 11.1 x 32.6cm (h x w x d). | 12.8 x 8.7 x 12.7 inches / 32.5 x 22 x 34.9cm | 14.17 x 14.96 x 7.6in / 36 x 38 x 19.5cm (h x w x d) |
| Capsules | Original | Vertuo | Original |
| Water tank capacity: | 23.7 fl oz / 0.7 liter | 40 fl oz / 1.2 liter | 33.8fl oz / 1 liter |
| Milk frother included: | No | No | Yes |
| Coffee sizes: | Espresso, lungo | Espresso, double espresso, gran lungo, coffee | Espresso, lungo, milk drink |
If you're not sure about the Nespresso Vertuo Creatista, here are a couple of other options to consider…
How I tested the Nespresso Vertuo Creatista
I made single and double espressos
I frothed milk
I assessed the ease of cleaning
I tried the Nespresso Vertuo Creatista in my own home, assessing how easy it is to use, from the initial setup through to making coffees and cleaning. I used it in place of my regular machine to make my usual morning cappuccinos. But I also tried espressos and flat white coffee too.
I tested the temperature of the coffee and the hot milk, I also set a timer to see how long it took to create the different drinks. Then when it came to cleaning, I made of how easy it was to clean the various parts.
I've been reviewing kitchen appliances for over 10 years and I've reviewed hundreds of coffee machines in that time. I've tried many of the Nespresso machines that are currently on the market, so I have a good understanding of these capsule coffee machines and what they're capable of.
Read more about how we test.
[First reviewed July 2023]