The Jura Z10 is a versatile bean-to-cup coffee machine from Swiss manufacturer, Jura. It comes with the precision and power to grind beans, extract coffee, and froth milk, resulting in the perfect cup of coffee every time – once you've got the knack for its settings, that is. 
If you're wanting barista-grade coffee at home without having to invest in professional kit, then the best bean-to-cup coffee machines will be more than sufficient for your needs. Models such as the Jura Z10 are more complex when it comes to maintenance, and may offer too much customization; but the Z10 does come with some seriously smart features alongside excellent performance that make it all worth it.
On the surface, making a drink is as simple as prodding the 4.3-inch touchscreen to select one of the 32 available specialty coffees (or using the roller dial to navigate the sometimes frustrating screen interface), adjusting the settings if needed, and waiting for your coffee to brew. You can choose from 10 coffee strength settings and milk/foam temperature settings, as well as the volume and length of time for the milk.
Once you've cracked the settings, and provided you use good quality beans, the Z10's Product Recognising Grinder (PRG) – or Automatic Grinder Adjustment (AGA) in the UK and Australia – and 3D brewing technology guarantee high-quality results. Even the cold brews taste excellent, thanks to Jura's high-pressure cold water technology for making eight types of specialty coffees, meaning I no longer have to worry about the lengthy, hassling task of cold brewing for my iced lattes. 
However, dig a little deeper and there are a few particularities in the Jura Z10 that might turn off anyone who's not that into their coffee. It requires a lot of maintenance and cleaning, and it doesn't come with the milk container necessary to enjoy many of the beverages to their fullest. 
In addition, you'll have to consider the ongoing cost of maintenance products – milk duct cleaning materials, water filters, descaling tablets and cleaning tablets, for example – all of which Jura recommends you buy from, you've guessed it… Jura. For its whopping $3,999 / £2,450 / AU$4,650 price, that's a lot of moving parts to consider.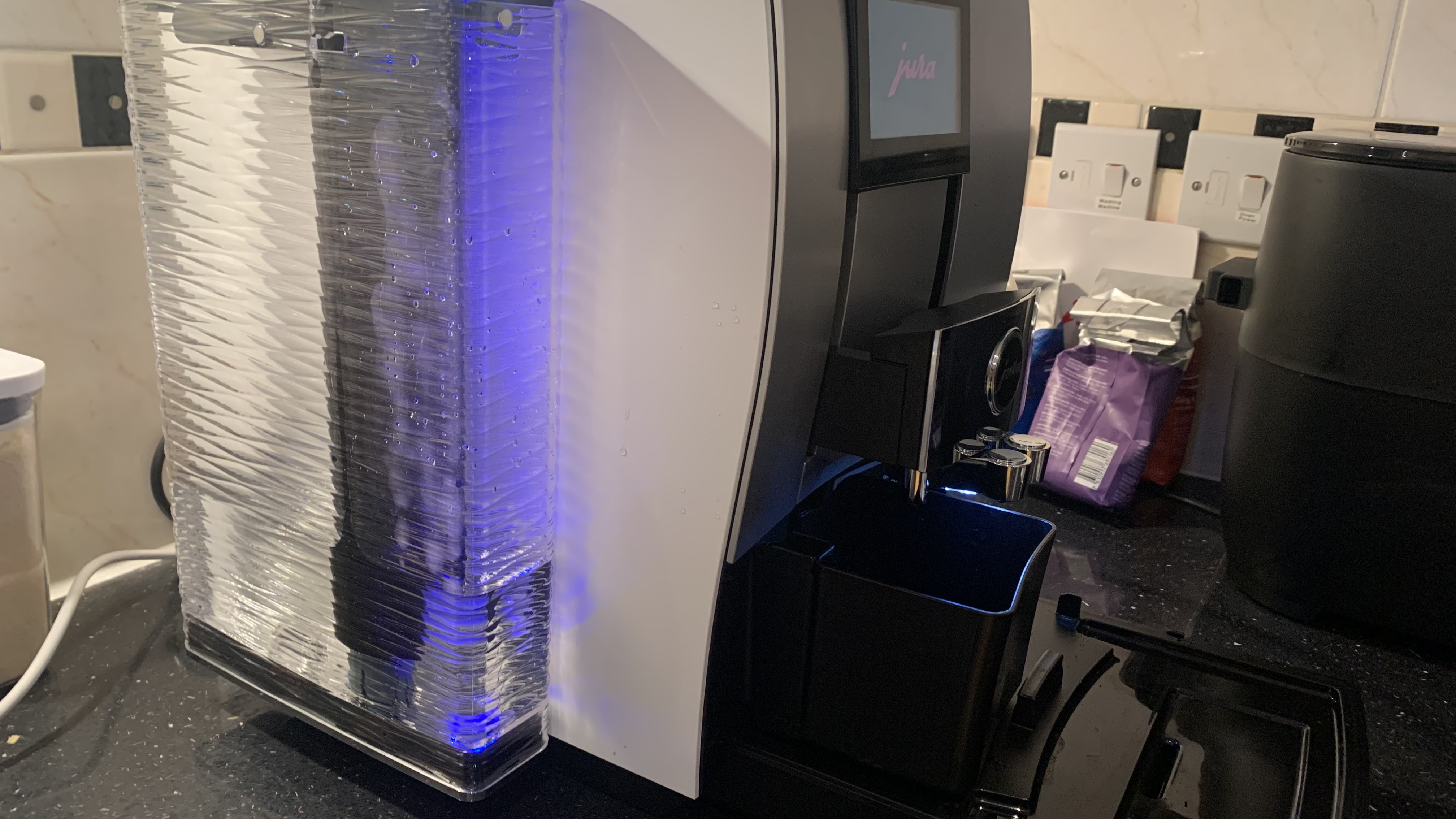 Jura Z10 review: price and availability
List price: $3,999 / £2,450 / AU$4,650
Widely available at resellers
The Jura Z10 is a pricey product, ringing in at ​​$3,999 / £2,450 / AU$4,650. It's available directly from Jura's online store (opens in new tab) as well as from online retailers such as Amazon (opens in new tab), and locally available stores such as Harrods (opens in new tab) and John Lewis (opens in new tab) in the UK, and Harvey Norman in Australia. It's available in two colorways: White Aluminum and Diamond Black.
It's worth noting that the Z10 doesn't come with a milk container. These are sold separately and range from $50 / £34.95 / AU$49.90 for Jura's most basic, glass milk container, to $359 / £150 / AU$299 for the more premium Jura Cool Control, which will keep your milk chilled. 
Then, of course, you need to factor in the ongoing cost of cleaning products from Jura, since the recommendation is that you only use the company's approved solutions. The milk system cleaning tablets cost $25 / £14.50 / AU$25.90 (30 cleans); the descaling tablets cost $20 / £15.50 / AU$31.90 for a pack of 9; and you'll need to replace the filter every 2-3 months, with prices starting from $25 / £15.95 / AU$25.90. At my personal usage, that's a yearly cost of roughly $320 / £195 / AU$345. 
The Jura Z10 is highly intelligent, but likely too expensive and high maintenance for the average person. This machine is built for those who take coffee seriously, or who really crave a hit of cold coffee.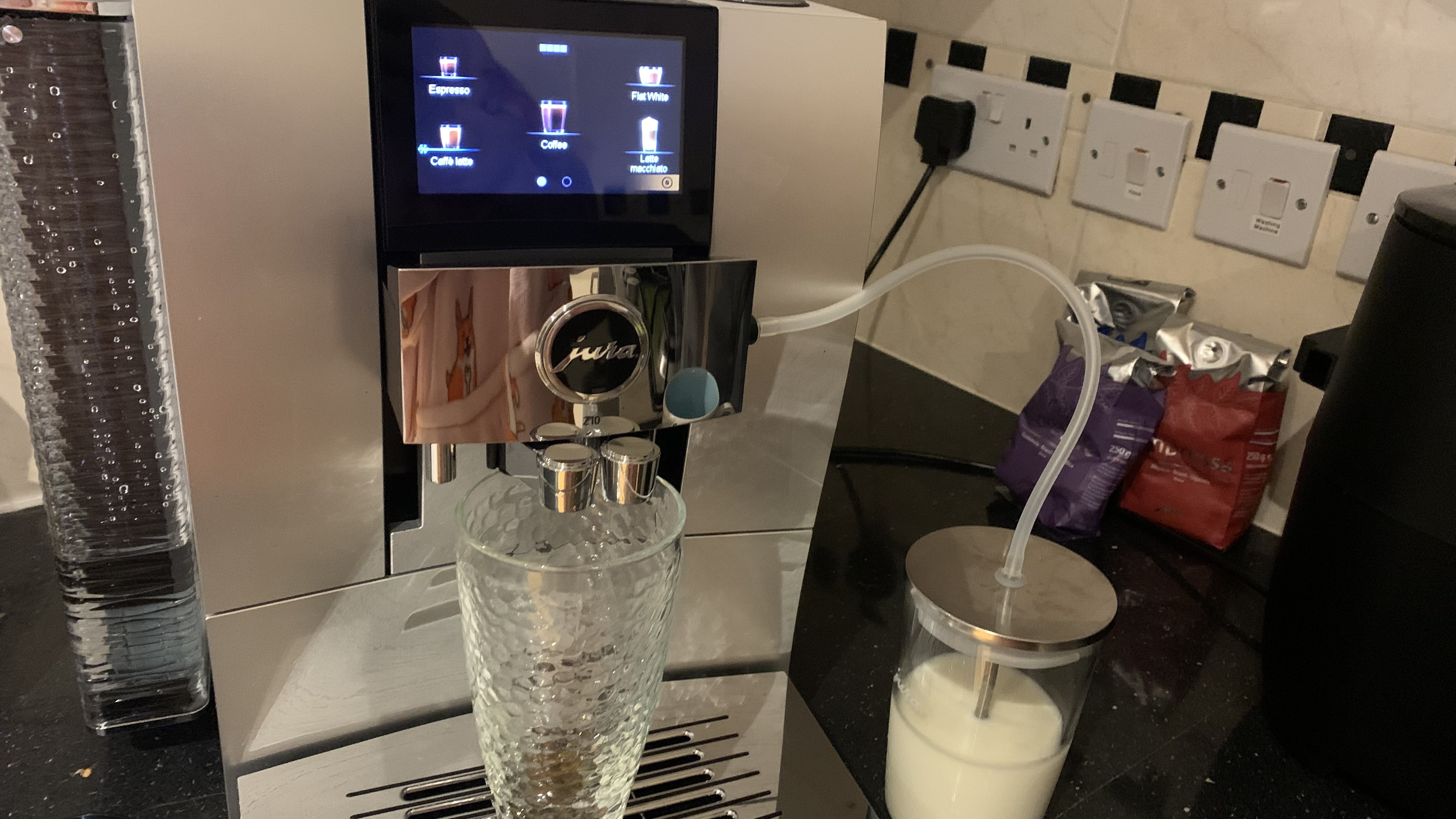 Jura Z10 review: specs
Price: $3,999 / £2,450 / AU$4,650
Weight: 27lbs / 12.3kg
Size: 12.6 x 17.7 x 15 inches / 32 x 45 x 38cm (W x D x H)
Controls: 4.3-inch touchscreen and roller wheel with button
Coffee types: 32, including 8 cold brews
Voltage / power: 230 V ~ / 1450 W
Water tank capacity: 2.5-quart / 2.4L
Bean hopper holding capacity: 0.6lbs / 280g
Ground container holding capacity: 20 servings
Cable length: 1.1m
Jura Z10 review: Design
27lbs / 12.3kg and 12.6 x 17.7 x 15 inches / 32 x 45 x 38cm (W x D x H)
Premium build materials and beautiful design
4.3-inch touchscreen controls as well as roller wheel and button  
The Jura Z10 is decent looking, if a bit boxy; but you're not really paying for a show-stopping centerpiece with Jura products. It's large at 12.6 x 17.7 x 15 inches / 32 x 45 x 38cm (W x D x H), and much too heavy to move around at 27lbs / 12.3kg. However, the size is necessary to squeeze in the Jura Z10's many features.
On the front of the machine is the adjustable-height dual spout, which can accommodate cups and mugs of all sizes. You can also change the orientation of the spouts themselves, enabling you to make two drinks at once using the double-shot setting – which is fantastic if you're hosting, or want to shorten your household's morning routine. On the right side of the spout you'll find a small port to connect any milk accessories – as mentioned, though, these don't come included. The spout also has a light on its underside so you can get the best view of your coffee in progress.
The drip tray and grounds disposal are easily removable for maintenance, and the machine actively monitors the volume of waste in here, prompting you to empty it when full. It's a little annoying to clean the tray with its various nooks and crannies, but it will only need doing every 5-6 coffees.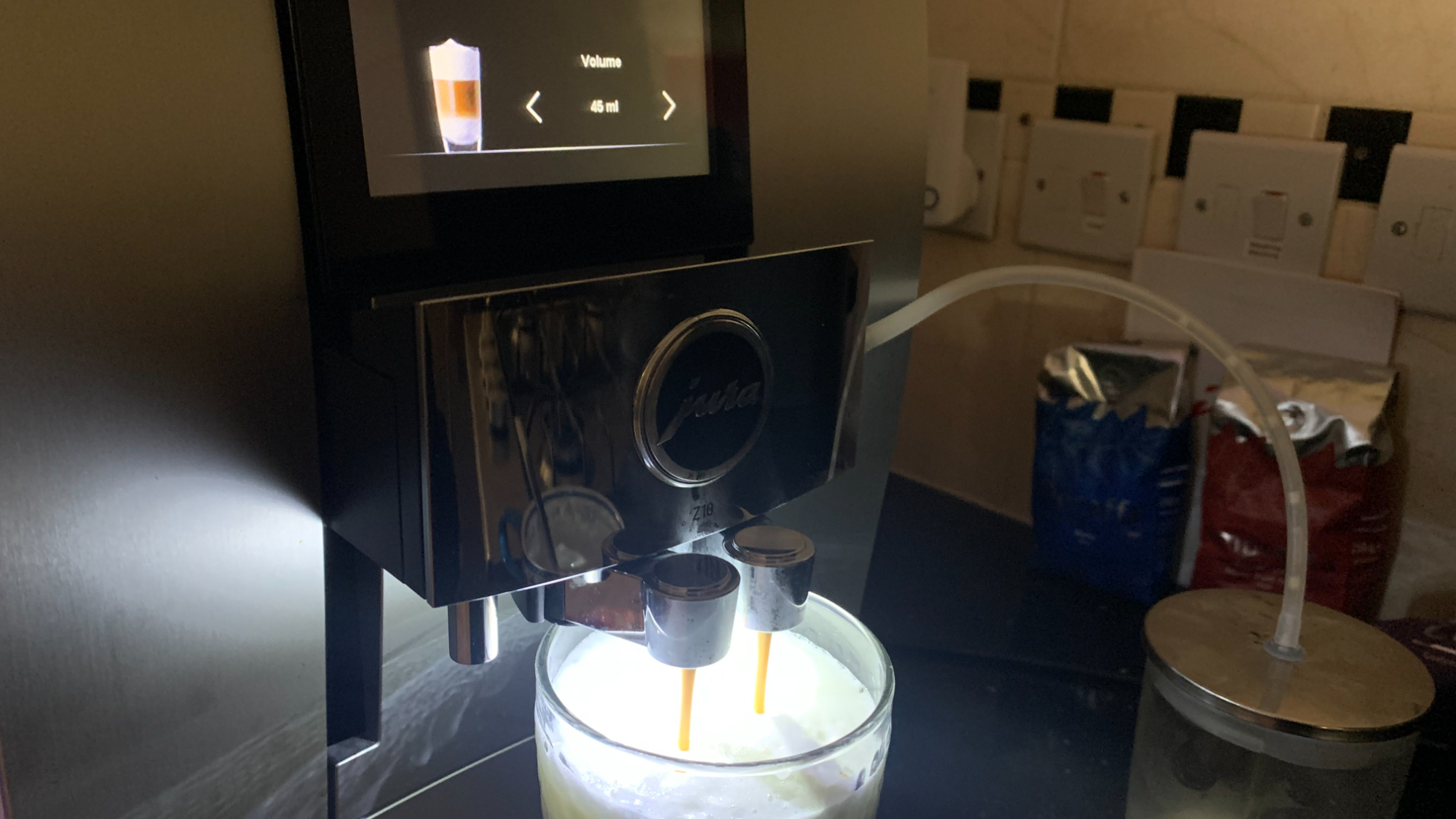 Above the spout is the Jura Z10's 4.3-inch touchscreen. This functions as one of the primary control methods for the machine, but there's also the top-mounted silver roller wheel and button that grant easier scrolling and access to the maintenance cockpit of the coffee machine.
In the center of the top of the coffee machine is the bean hopper, which is covered with an aroma-preserving sealed lid. It's see-through, so you can eye up how many beans you have left in the Jura Z10; but you can also rely on the machine's active monitoring system to let you know when it's time for a refill.
At the rear of the hood is a panel that you can pop open to access the ground coffee chute and a slot to insert the Wi-Fi dongle that comes included with the machine. Next to this compartment is the on/off button – if you're hoping to fit the Z10 under any low-sitting wall-hung cabinets in your kitchen, then these placements may prove a little inconvenient. 
To the left of the machine is the water tank, which holds 2.5 quarts / 2.4L. The Jura Z10's intelligent water system will let you know when it's time for a refill – in my experience, this was fairly often, given how regularly the machine runs its automated cleaning cycles.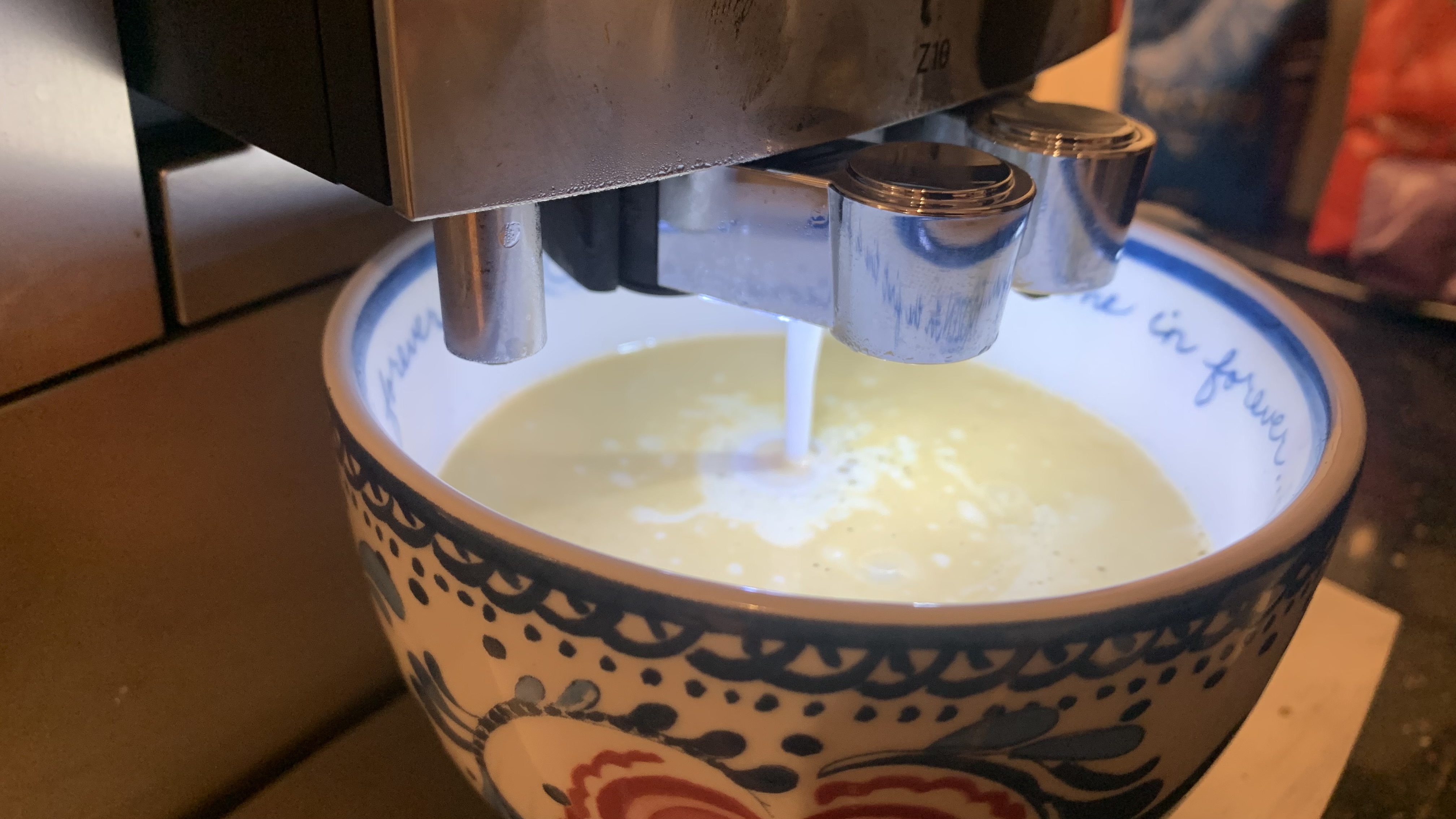 Jura Z10 review: Performance
Works best with more premium beans
Fantastic microfoam with milky coffees
Touchscreen is a drawback
On test, the Jura Z10 was, by and large, great. However, there are a few practical and usability drawbacks worth highlighting. While these don't extend far beyond what I'd expect from a modern coffee machine, given the Z10's price, it would have been great to see fewer issues.
When you first boot up your Jura Z10, you'll need to set up the machine with your Wi-Fi information and your water hardness test results (these come included). Next up, it's worth running a quick maintenance cycle to make sure all of the components are working, ready for your first brew. You may also want to tweak the settings.
Finally, it's time to make – and enjoy – your first coffee. With 32 varieties of barista-quality coffees to choose from, you won't be left wanting. Simply fill up the water tank, bean hopper, and whatever milk accessories you have, and you're all set to choose your coffee – and here's my first gripe. For me, the screen proved an absolute terror. It's super-responsive to the extent where, every third or fourth use, I'd select the wrong coffee and have to awkwardly wait for the cancel button to appear once Jura's signature Thermoblock system had finished heating up. 
With the Jura Z10, there are presets for making espresso, doppio espresso, cortado, latte macchiato, macchiato, flat white, cappuccino, caffe latte, caffè barista, americano and jug of coffee. You can also request just hot water and hot water for green tea, as well as hot milk and milk foam. By tapping the menu at the top of the screen, you can see which beverages can be made as a cold brew, add an extra shot, make with added ground coffee from the grounds container, or make two drinks concurrently.
The intelligent preheating will kick in to make sure your coffee is perfectly hot right from the first cup, and the PRG and 3D brew technology will ensure that the settings are correct for your beverage of choice. Having selected your beverage, you can toggle through the 10 coffee strength options and the milk and coffee volume options, or change the default options by pressing and holding the drink in the menu.
I'm no coffee aficionado, so it took me a little while to get to grips with some of the more nerdy aspects of the Jura Z10 – for example, the coarseness settings. After a week of suffering unpleasantly acidic espresso, I finally nailed the perfect cup by using better beans, replacing my water filter, and opting for a coarser grind – resulting in rich results with a satisfying crema. 
Milky coffees were where the Jura Z10 really shone. I was really impressed with the frothy microfoam on cappuccinos, and the machine can seamlessly switch between hot milk and foam within seconds, meaning even more complex coffees are ready in a minute or less.
As far as the cold extraction drinks go, it's worth noting that they don't come out fully cold. They're lukewarm, so you'll need ice to give you that refreshing iced latte of your dreams. However, the iced coffees are truly delicious, presenting a much sweeter and far quicker route to cold caffeination than popping to your local coffee shop. 
As a sophisticated machine, it's to be expected that the Jura Z10 would be pretty high maintenance. It's mostly automated, with the exception of emptying the trays, manually triggering the milk system cleaning cycle, and using the descaling and deep-cleaning products. The machine is pretty water-hungry through these cycles, so it felt like I was constantly refilling the tank over the course of the week.
The Z10 actively monitors pretty much every aspect of itself, though, so you don't personally have to think about the levels of water, coffee and byproduct. You can also click the rotary wheel button to open up the Jura cockpit, or use the app to check the status of all its components.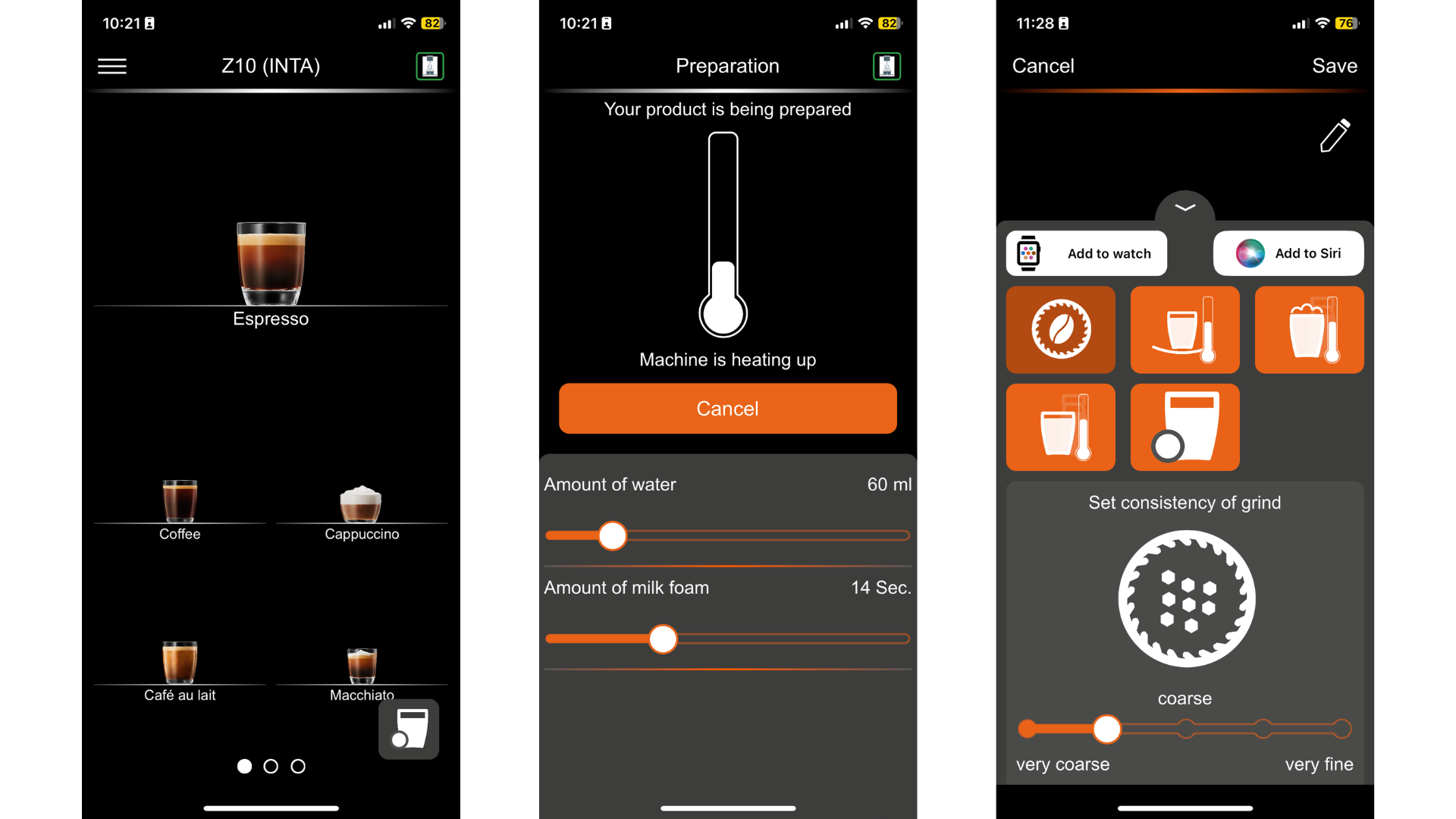 Jura Z10 review: App
Dated, clunky UX
Customize your coffee and add to Siri/Apple Watch
Maintain your device
The Jura Z10 comes with a Wi-Fi dongle, allowing you to connect to Jura's J.O.E app – so long as you have 2.4GHz connectivity. Alternatively, you can purchase the Bluetooth dongle via Jura's website, which is what I used to circumnavigate issues I have with my broadband provider's 2.4GHz supply. From this app, you can fully customize and control your machine, as well as your coffee. 
The app is a little clunky and dated in its UX, but it certainly does the job. I particularly appreciated having the ability to add and edit my own coffee preferences into its menu, and get a clearer picture of the machine's maintenance. Plus, the app meant I didn't have to use the annoying touchscreen on the machine – a huge plus! 
I was really excited by the prospect that I might be able to automate my coffee-making into my morning Apple Home routine. Unfortunately, you have to manually turn on the machine, place the cup once the nozzle cleaning cycle is complete, and change the water every morning before ordering your coffee. Realistically, then, the Siri and Apple Watch integrations are more a cool gimmick than a value-adding feature.
Jura Z10 review: Should I buy?
Swipe to scroll horizontally
Jura Z10 review

| Attributes | Notes | Rating |
| --- | --- | --- |
| Price & availability | I'm still a little uncertain about calling this bean-to-cup good value. It does offer fantastic features and cold brews, but it's just so expensive and has other auxiliary costs to consider. | 3.5/5 |
| Design | It's a little dull in the looks department, but I can't really fault it – everything works, bar the fiddly screen and the slightly fiddly-to-clean drip tray. | 4/5 |
| Performance | the Jura Z10 only loses a smidge here because I had to really work to nail my espresso, and the cold brews are just tepid. | 4.5/5 |
| App | It's such a premium device, but the app just feels far too basic in terms of UX and features. It's definitely more of a gimmick than the value-adding experience that other small appliance apps offer. | 3.5/5 |
Buy it if…
Don't buy it if…
Jura Z10 review: also consider
Swipe to scroll horizontally
| | Jura Z10 | Sage by Heston Blumenthal the Oracle Touch | DeLonghi Dinamica Plus |
| --- | --- | --- | --- |
| Price: | $3,999 / £2,450 / AU$4,650 | $2,500 / £1,999 | $1499.95 / £1199.99/ AU$1529 |
| Size: | 12.6 x 17.7 x 15 inches / 32 x 45 x 38cm (w x d x h) | 17.8 x 14.7 x 14.7 inches / 45.4 x 39.2 x 37.3cm (h x w x d) | 3.7 x 9.3 x 16.9 inches / 34.8 x 23.6 x 42.9cm (h x w x d) |
| Controls: | 4.3-inch touchscreen and roller wheel with button | Touchscreen | Touchscreen |
| Coffee types: | 32, including 8 cold brews | 11 | 15 |
| Water tank capacity: | 2.5-quart / 2.4L | 0.65-gallon / 2.5L | 0.47-gallon / 1.8L |
| Bean hopper holding capacity: 0.6lbs / 280g Ground container holding capacity: | 20 servings | 8 oz / 280g | 10.6 oz/300g |
If you prefer to consider a pod coffee machine from another brand, here are a couple of machines to consider…
How I tested the Jura Z10
I've been using the Jura Z10 for 3 weeks
I've made a latte, cappuccino, espresso, cortado, flat white and cold varieties too
I used the Jura Z10 for my morning (and sometimes lunch and afternoon) coffee fix for several weeks, using various beans and different kinds of milk to make the full selection of beverages on offer. I also cleaned the machine after use to see how easy it is to maintain. 
In particular, I assessed its espresso-making capabilities; how quickly and effectively it serves the beverage, and how well its crema is developed. I also tested how well the Jura Z10 texturized milk, and if it could play nicely with dairy milk alternatives, too. 
Read more about how we test. 
First reviewed: April 2023