Just call it the super spud. Though sweet potatoes are especially popular in the cooler months and during the holiday season, the powerhouse vegetable deserves a place at the dinner table all year round. They're packed with nutrients like fiber, potassium, and vitamins A and C, making them a healthy addition to any meal.
They're also incredibly versatile. The root vegetable can be prepped — cubed, sliced, grated, puréed — in as many ways as they can be cooked. No matter if you bake, mash, fry or grill them, sweet potatoes can stand up to the task, making them one of our go-to ingredients for a wide range of recipes. Plus, they pair well with a variety of ingredients and are able to hold their own against even the strongest herbs and spices.
Another reason to cook more often with sweet potatoes is their flavor. Not only are they full of good stuff, sweet potatoes also have a naturally sweet, earthy flavor that can add depth and complexity to a range of dishes. Whether you prefer them prepared savory or sweet, we have a recipe to satisfy your taste buds. Sweet potatoes can be seasoned with cinnamon, nutmeg, and brown sugar for a classic casserole, blended with coconut milk into a warming soup or mashed and folded into the batter of a spectacular coffee cake.
Ready to explore all that sweet potatoes have to offer? This extensive collection of recipes showcase the vegetables' full range and will hopefully inspire you to add more sweet potatoes to your cooking routine.
Sweet potatoes have a natural sweetness that's simply irresistible, especially when roasted whole in the oven. The caramelized exterior gives way to a soft and pillowy interior that's delicious on its own with a simple pat of butter or dressed up with toppings.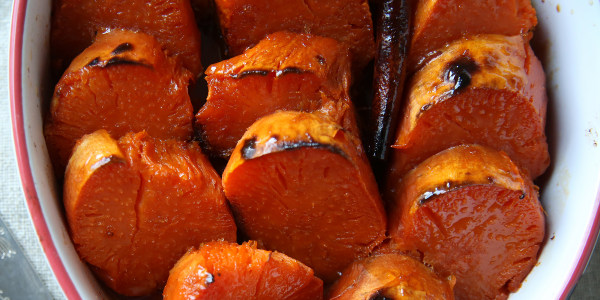 Jim Wilson / The New York Times
Candied sweet potatoes are a mouthwatering side dish that will have your taste buds singing. Sliced and drenched in a butter-cider-maple seasoned with cinnamon, cloves, and orange zest, they're baked until bubbly and brown. The result is a rich vegetable side that's sweet and savory, with a touch of decadence that'll elevate weeknight meals or impress during the holiday season.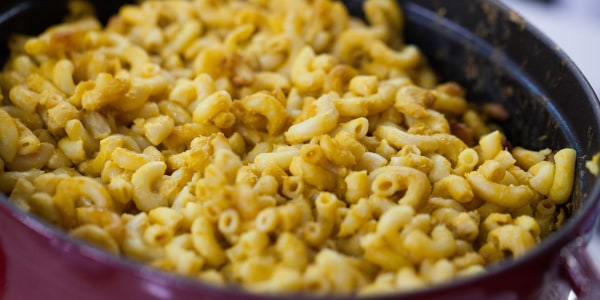 TODAY
This delicious twist on classic mac and cheese is sure to become a new family favorite. The recipe combines tender macaroni with a rich and creamy cheese sauce and sweet potato. Using canned sweet potatoes is not only convenient but also affordable, especially if you're feeding a crowd. The gooey casserole is both comforting and nutritious, with a light orange color that's sure to brighten up any table.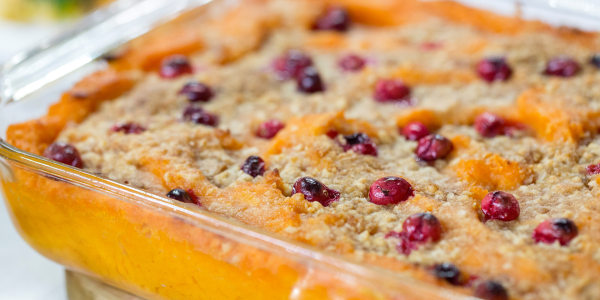 Samantha Okazaki / TODAY
Sweet potato casserole is a Thanksgiving classic that never fails to please. In this twist on a classic, Jocelyn Delk Adams adds a crunchy oat topping that contrasts beautifully with the creamy sweet potato filling. Whether you're hosting a family gathering or simply looking to add some cozy comfort to your dinner table, her recipe is a must-try.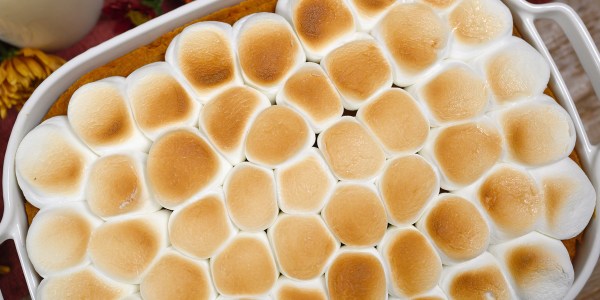 Nathan Congleton / TODAY
If you're not familiar with sweet potato poon (also spelled pone), it's a Southern recipe traditionally served during the holiday season. Al Roker likens the dish to a "a crustless sweet potato pie" that's "sweet and savory." Here, he shares his mom's take on it, which includes dark brown sugar, crushed pineapples and a trio of warming fall spices. Once the casserole is baked through, top with marshmallows and broil — just remember to keep an eye on it so it doesn't become a burnt mess!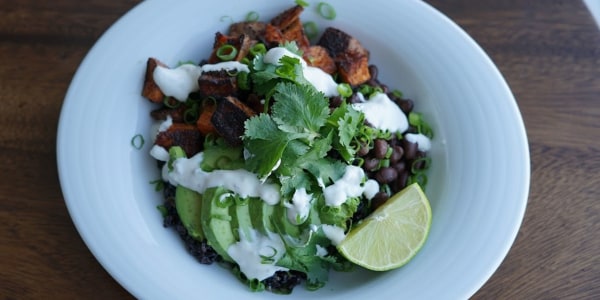 Elena Besser
Grains bowls are delicious and healthy and this one is especially so, thanks to a nutritious combination of black rice, black beans and sweet potatoes. A blend of cumin, chili powder, paprika and garlic powder give the diced and roasted sweet potatoes a flavorful boost. A tangy lime and jalapeño dressing adds zip to the rice, while a salsa verde crema and avocado lend creaminess to the whole affair.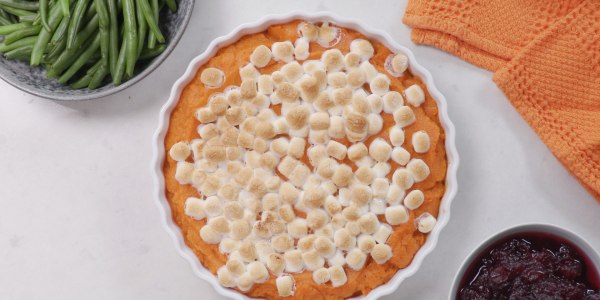 TODAY
Rather than adding sugar, Joy Bauer turns to another orange root vegetable for sweetness: carrots. They're boiled with the sweet potatoes until soft, then blended with almond milk, butter and cinnamon to make a quick and healthy casserole. Don't worry — the recipe still calls for baking the mashed veggie filling with a mini marshmallow topping. No sweet potato casserole, after all, would be complete without them.
Melissa Knific
Looking for a cozy and comforting meal? Try making this shepherd's pie with a twist by swapping out traditional mashed potatoes for sweet potatoes! Baked in a skillet, this delicious recipe is a flavorful combination of ground beef, vegetables and a rich tomato paste, all topped with a layer of creamy sweet potato. Ideal for a chilly evening or a family meal, this sweet potato shepherd's pie will be a great addition to your dinner rotation.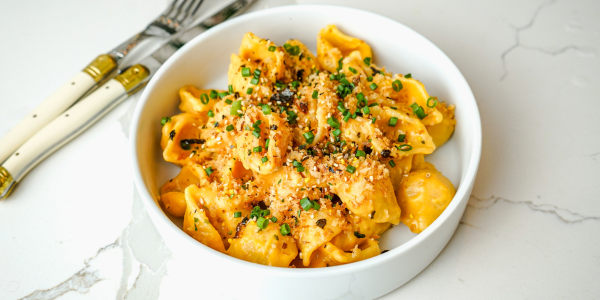 Courtesy Elena Besser
Mac and cheese fans who want to switch things up a bit should look no further than this next-level recipe, which adds both sweet potato and miso paste to the mix. This unique and flavorful twist is a delicious way to enjoy the creamy, cheesy goodness you love with a healthy boost of sweet potato and the umami depth of miso. The natural sweetness of the sweet potato balances perfectly with the salty and savory flavors of the miso, creating a complex dish that's both comforting and nutritious.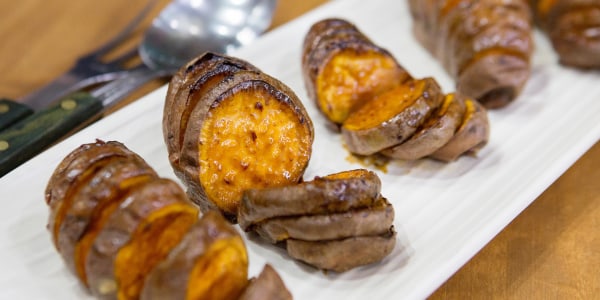 Nathan Congleton / TODAY
Hasselbacking is an easy, yet impressive technique that elevates any vegetable you're cooking. Bobby Flay uses it to create a beautifully textured sweet potato that's crisp on the outside and tender on the inside. The maple-adobo glaze adds a spicy kick that complements the natural sweetness of the root vegetable.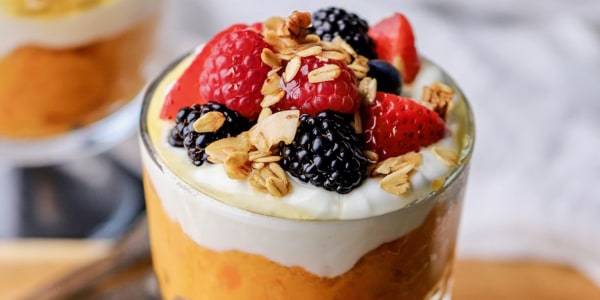 Joy Bauer
Sweet potatoes for breakfast? Yes! Nutrient-packed sweet potatoes and carrots work beautifully as a parfait base when cooked until soft and fluffy. Pair with tangy yogurt and maple syrup to play off the veggies duo's natural sweetness and add fresh berries or toasted nuts and granola for crunch.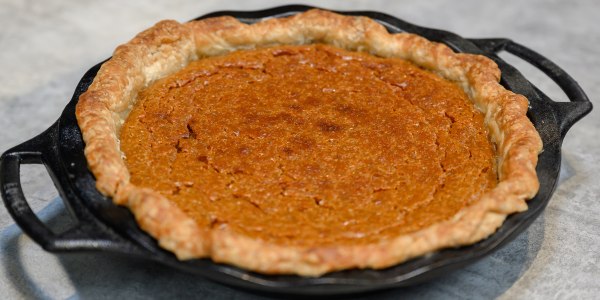 Nathan Congleton / TODAY
Add something new and unexpected to the Thanksgiving dessert spread this year.This exciting recipe from pie maven Maya-Camille Broussard features sweet potatoes and plantains spiced with cinnamon and nutmeg. The crust is flaky and buttery, providing a lovely contrast to the creamy filling.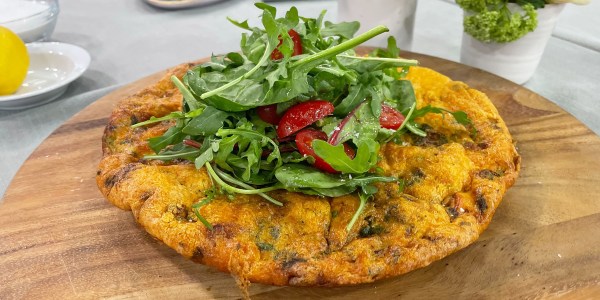 Katie Stilo
Need a hearty breakfast or brunch recipe that's easy to make and feeds a large group? Consider making a sweet potato and ham frittata. This delicious frittata combines the natural sweetness of sweet potato with the salty richness of ham. Frittatas are also a great way to use up leftover ingredients in your fridge, making them a budget-friendly option, too.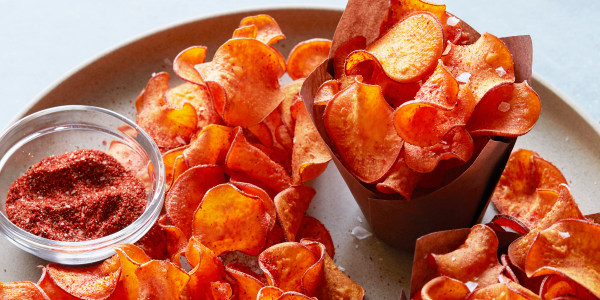 Matt Armendariz
Homemade chips for the win! Made with thinly-sliced sweet potatoes that are fried to crispy perfection and seasoned with a blend of barbecue-inspired spices, these chips are great for snacking on during warm-weather cookouts and picnics or on game day.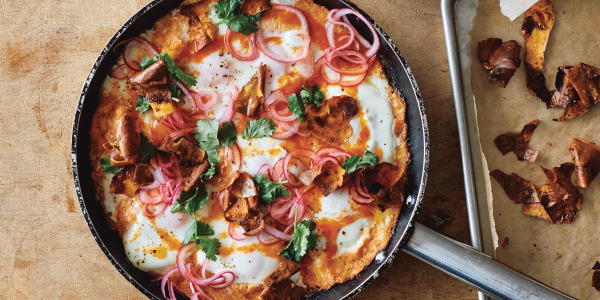 Elena Heatherwick
Shakshuka fans will adore this variation that's bulked up with sweet potatoes. By adding the root vegetable to the mix, you'll get a boost of fiber and nutrients that will keep you feeling satisfied and energized throughout the day. The sweet potato also adds a subtle sweetness that pairs nicely with the rich tomato sauce and runny eggs.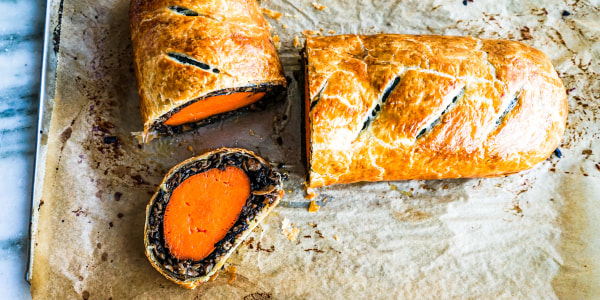 Courtesy Elena Besser
Vegetarian and fabulous — that's the vibe of this plant-based wellington. Instead of the typical beef and prosciutto filling, sweet potato and garlicky mushrooms get wrapped in Swiss chard and puff pastry to form a showstopping party entrée. Serve it on its own or with a little crème fraîche for even more elegance.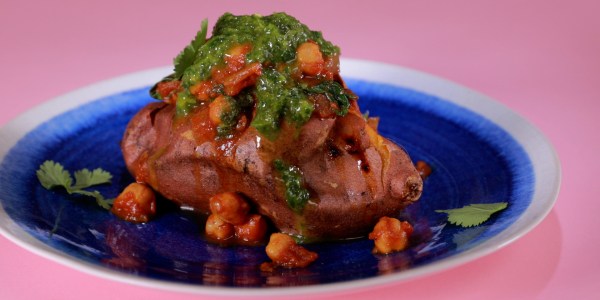 TODAY
Samah Dada was inspired by the rich and spicy notes of chana masala, which play off the sweet earthiness of sweet potatoes in this protein-packed dish. She stuffs a roasted sweet potato with a heaping helping of tender chickpeas and wilted spinach, tomatoes, onion, garlic, and of course, tons of aromatic spices.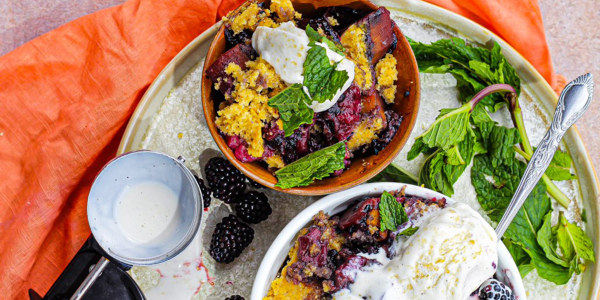 Courtesy Will Coleman
Will Coleman's creative spin on cobbler may convince you to top them all with cornbread. The filling starts with classic cobbler ingredients — fresh fruits, butter, spices — but adds sweet potato to the mix. It's topped with scoops of cornbread to form a golden, tender crust.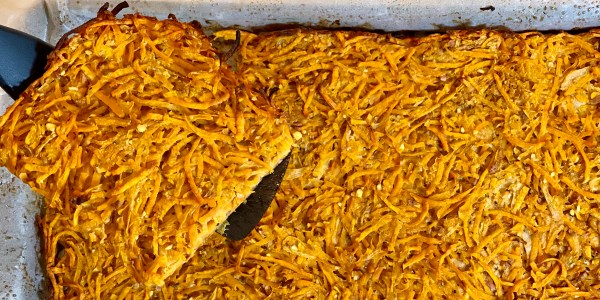 Courtesy Joy Bauer
Standing at the stove frying up individual latkes is exhausting, especially if you have a lot of holiday prep on your plate. Enter Joy Bauer's sheet-pan sweet potato latkes. Though not traditional by any means, the big-batch pancakes are great if you need an easy hands-off appetizer or want something that isn't deep-fried.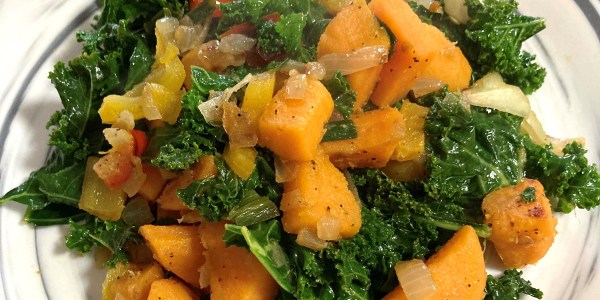 Tanya Holland
The versatility of this sweet potato-kale hash is unmatched. Top with poached eggs to enjoy this veggie-packed dish for breakfast or serve with your favorite protein as a filling, nutritious dinner.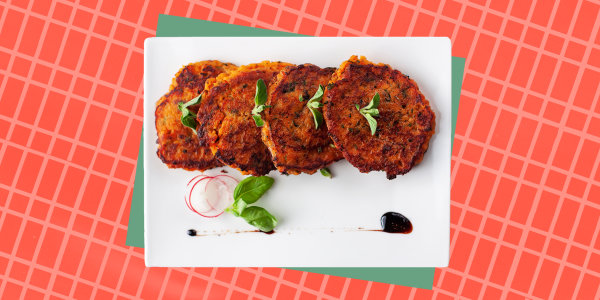 TODAY Illustration / Getty Images
Sweet potato salmon cakes are a healthy and delicious way to enjoy seafood and vegetables together in one bite. Roasted sweet potatoes and chickpea panko help bind the salmon patties together so they're egg- and gluten-free. It's a tasty, nutritious dinner option for families who have different dietary preferences or food allergies.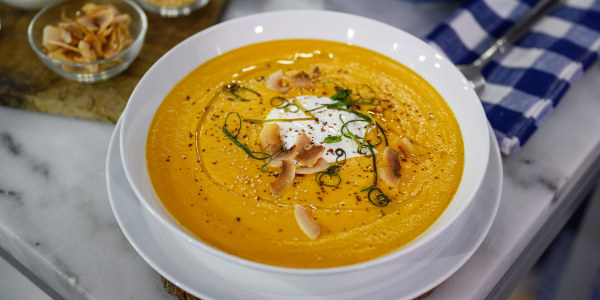 Nathan Congleton / TODAY
This sweet potato soup has a bold and satisfying taste that is sure to warm you up on even the coldest of days. Along with onions, garlic and ginger, the soup gets its flavor from miso paste and rice wine vinegar. Full-fat coconut milk and a dollop of labneh give it a lovely creaminess.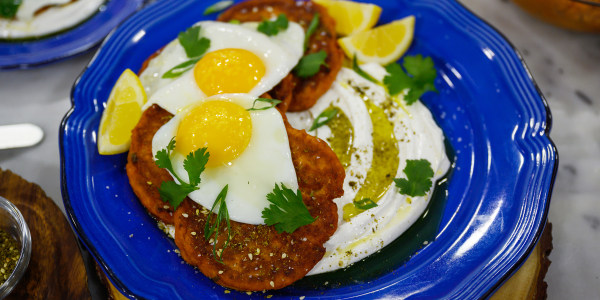 Nathan Congleton / TODAY
One bite of this scallion and sweet potato pancake will convince you that savory pancakes should be on every breakfast menu. Don't skimp on the scallions — they're the flavor all-star here. Enjoy the pancakes over labneh with just-set fried eggs.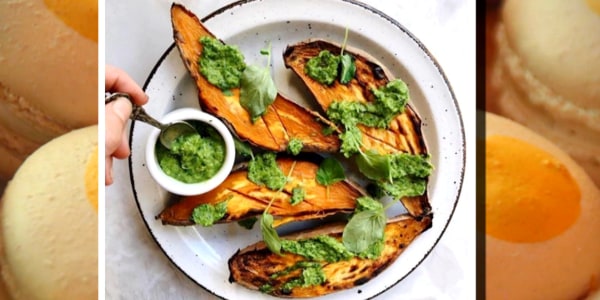 TODAY
Featuring roasted slices of sweet potato and crispy fried eggs, this three-ingredient recipe is as simple as it gets. Ghee is the recommended cooking fat for an extra buttery flavor, but you can use whatever oil you have on hand.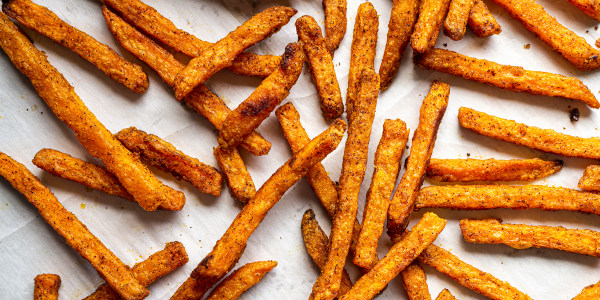 Panagiotis Kyriakos / Getty Images
As any air fryer enthusiast will tell you, the best part of using the popular appliance is its ability to crisp food with minimal oil. The cooking method creates golden sweet potato fries — here seasoned with granulated garlic and Cajun spice — without the need for deep-frying or added fat.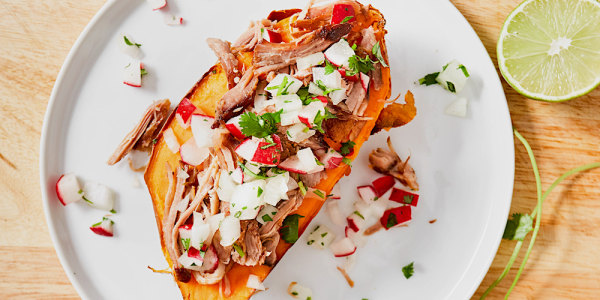 Dani Spies
Turn a roasted sweet potato into a full meal by loading it up with pulled pork. Each bite is a mouthwatering symphony of smoky, savory and sweet. To make it an easy weeknight dinner, prepare the pulled pork using a slow cooker or Instant Pot and use store-bought salsa — we recommend the best-tasting ones here.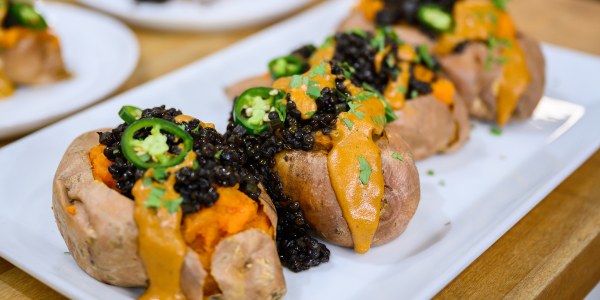 Nathan Congleton / TODAY
Loaded sweet potatoes may sound indulgent, but they can be hearty and nutritious, too! Kevin Curry stuffs oven-roasted sweet potatoes with filling lentils cooked in vegetable stock. In his signature flavor-boosting move, each stuffed spud is finished with a Tex-Mex-meets-Israeli tahini sauce infused with spicy chipotle.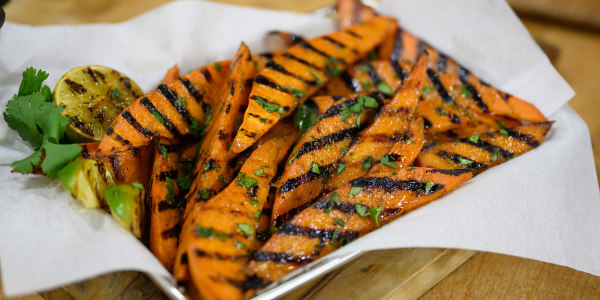 Nathan Congleton / TODAY
Grilled sweet potatoes are a wonderful addition to any summer meal. The smoky char pairs nicely with the vegetable's natural sweetness and a zesty cilantro-lime glaze adds a burst of freshness. Grilling is also a great way to cook sweet potatoes, as it allows them to caramelize on the outside while remaining tender on the inside.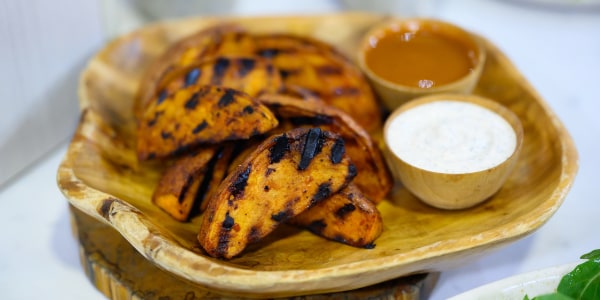 Nathan Congleton / TODAY
Tossing sweet potatoes on the grill is not only the easiest and fastest way to cook them in the summer months, but doing so also enhances their caramelization and gives them beautiful char marks. Season with the all-purpose barbecue seasoning and serve alongside a creamy halal cart-inspired white sauce and zingy mustard sauce for dipping.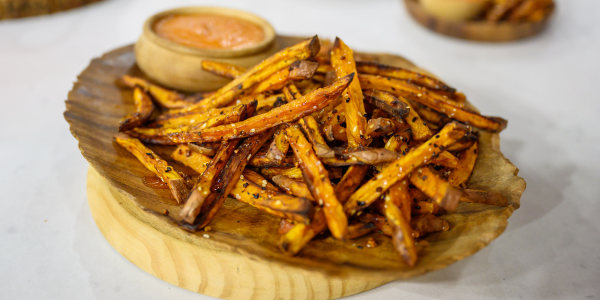 Nathan Congleton / TODAY
If you're already a zealous use of everything bagel spice, then this combination is probably not a new one. Those who are new to it will be pleasantly surprised by just how delectable it is, especially when the sweet potato fries are finished with a drizzle of honey and dipped in the homemade tomato-peach ketchup.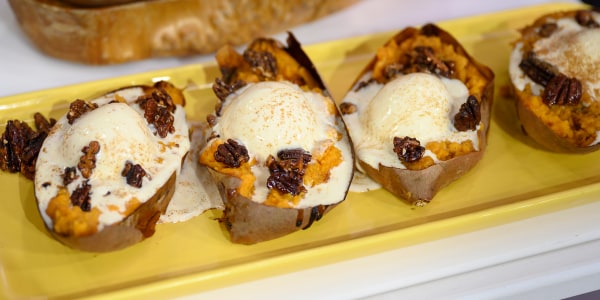 Tyler Essary / TODAY
Hear us out: Sweet potatoes are a great dessert any time of year. We all turn to the root vegetable in the pie-making months of fall, but this recipe proves that it can be great as a sundae, too. Bake the sweet spuds until soft, top with butter and warming spices, then serve with a scoop of ice cream and salted maple pecans.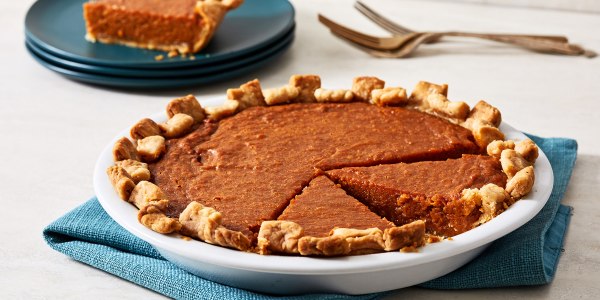 Lisa Cherkasky / The Washington Post via Getty Images
Singer Patti LaBelle shares two important tips for making the best sweet potato pie: Use shortening for the flakiest, most tender crust, and line the bottom with brown sugar to keep it from getting soggy.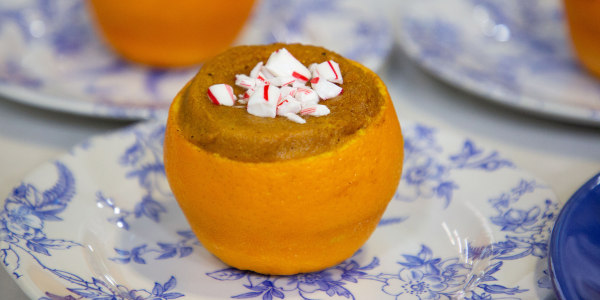 Nathan Congleton / TODAY
Surprise dinner guests with a whimsical dessert. This fluffy sweet potato soufflé, flavored with ginger, cinnamon, nutmeg and allspice, arrives in individual hollowed-out oranges, a presentation that'll surely have the entire table ooh-in and ahh-ing.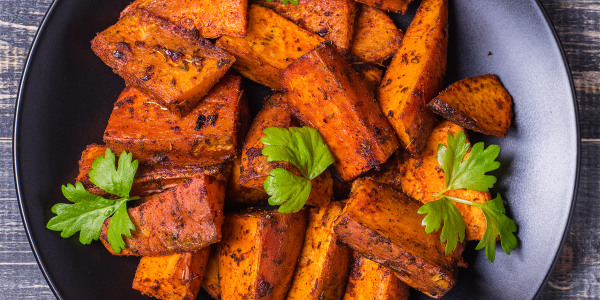 Tatiana Bralnina / Shutterstock
Chef Nina Compton combines her Caribbean roots with Thanksgiving tradition in this recipe for jerk-roasted sweet potatoes. Enjoy the spiced spuds as a side dish or add them to salads and grain bowls.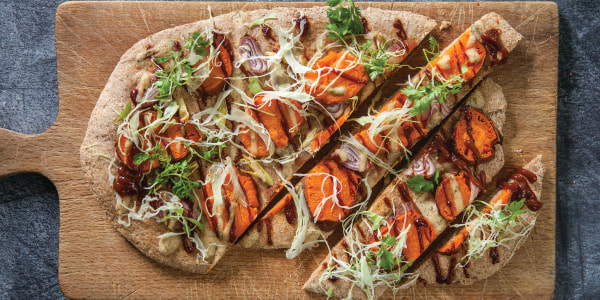 The Whole Foods Cookbook
People who have strong feelings about pineapple on pizza (ahem, Stanley Tucci) will likely have thoughts about this sweet potato barbecue pizza. But don't knock it 'til you try it. The recipe calls for topping a whole wheat crust with sweet potato, cabbage, red onion and homemade barbecue sauce. Traditional? Not at all. But sometimes our meal rotations could use something unexpected.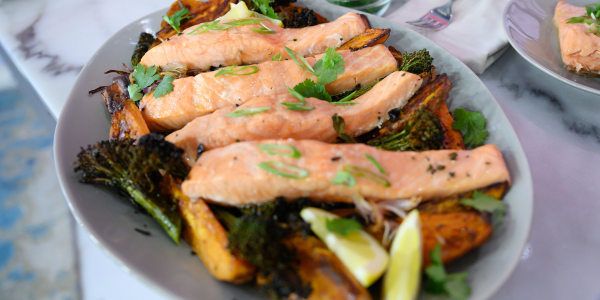 Nathan Congleton / TODAY
This recipe brings salmon, sweet potatoes and broccolini together to form a wholesome dinner that comes together quickly. To get all the ingredients to cook at once in the oven, give the sweet potatoes a headstart with a zap in the microwave, a technique that saves time on busy weeknights.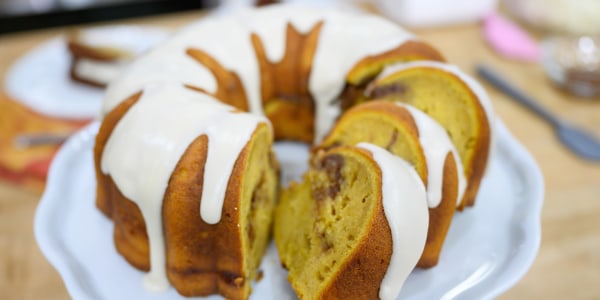 Nathan Congleton / TODAY
Tired of seeing pumpkin spice everything once fall rolls around? This sweet potato coffee cake is a lovely alternative that's still full of autumnal aroma. For the perfect release, be sure to grease the bundt pan with shortening and flour and allow the cake to rest after baking.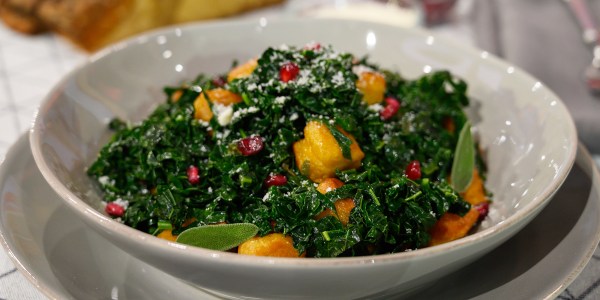 Nathan Congleton / TODAY
These gluten-free sweet potato gnocchi get their bounce and chew from tapioca flour. Toss the pieces together with sautéed kale, sage, pomegranate seeds and pecorino cheese to make a wonderful fall entrée that gluten-free guests can also enjoy.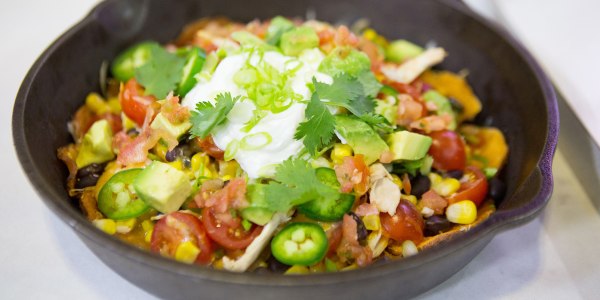 Nathan Congleton / TODAY
Swap tortilla chips for baked sweet potato slices for slimmed down "nachos" that have all the flavors you know and love of the game day favorite. Load up the sweet potato rounds with black beans, corn, Mexican cheese and other essential toppings. It's hearty, filling and every bit as satisfying as the original version.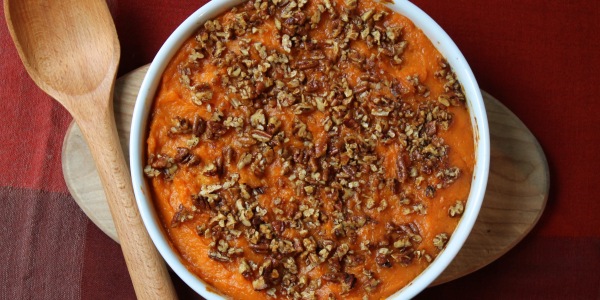 Grace Parisi / TODAY
Two ingredients with Southern roots — bourbon and pecans — are the stars of this as-classic-as-it-gets sweet potato casserole. As recipe developer Grace Parisi says, the combination of the bourbon- and maple-spiked sweet potato with butter pecans is "the epitome of Southern hospitality."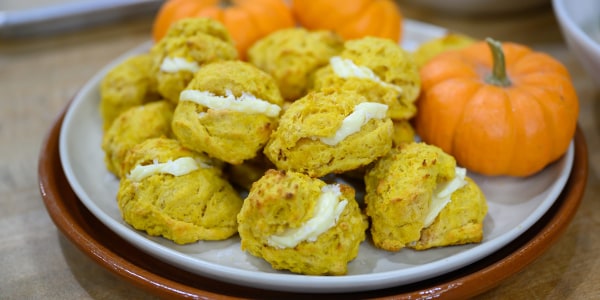 Nathan Congleton / TODAY
Sweet potato can easily be swapped in for pumpkin in these buttery fall-inspired biscuits. The peanut butter just melts right in, adding a subtle nuttiness that complements the sweet potato flavor.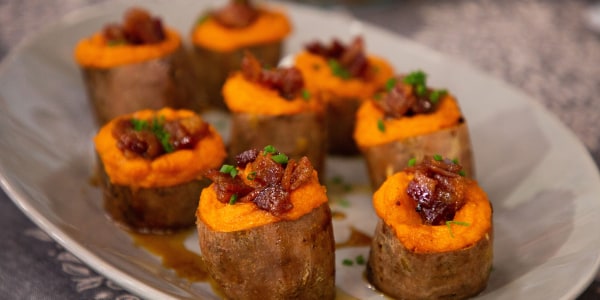 Nathan Congleton/TODAY
Take roasted sweet potatoes, mash them up with sorghum, butter and spices, then place it all back inside the skins to form a party-ready appetizer. Top with candied bacon for smoky sweetness or leave it out to keep it vegetarian.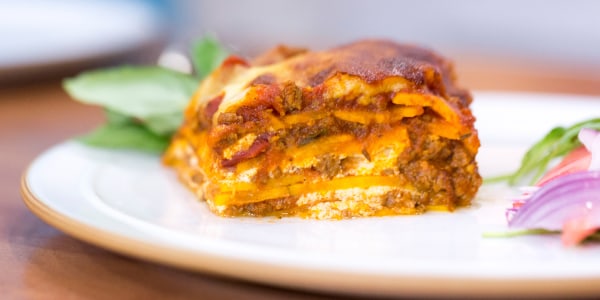 Samantha Okazaki / TODAY
Lasagna, but make it gluten-free. Fit Men Cook's Kevin Curry was tasked with this challenge and delivers with his sweet potato lasagna. He swaps noodles for sheets of thinly-sliced spuds and layers them between ground beef, marinara, and low-fat ricotta and mozzarella cheeses.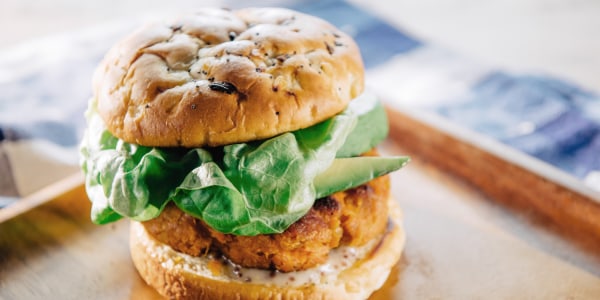 Ray Kachatorian
A good veggie burger should be filling, satisfying and, most importantly, not fall apart. Trisha Yearwood's take on a plant-based burger has a secret ingredient that helps hold the chickpea filling together: sweet potato. The patties are so good, the singer will sometimes enjoy them without any buns!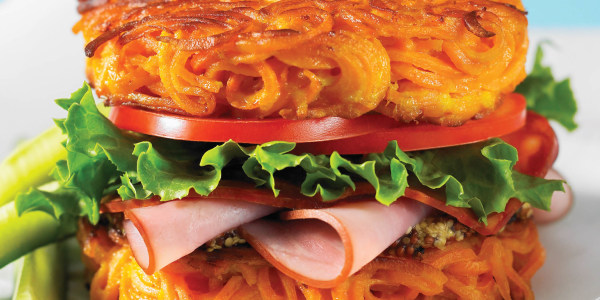 Robert Rose Inc.
Get creative while staying gluten-free with these "buns" made out of spiralized sweet potatoes. To get a perfect circle, the rounds are pressed and firmed up in a ramekin before they're crisped up in a skillet. They're crunchy, tasty stand-ins for bread in sandwiches and burgers.